First off, I am not a professional trainer. There are many way to teach a dog to track, and many different reason for this type of training. The first post was a good example of how to train your dog to find family members in case of an emergency. This is the best type of track training for a standard house pet. Most tracking dogs are specialists. Some track specific creatures for their humans to hunt, while other track humans that get lost. Some are trained to track dead body's/bones, and some are trained to multi scent track. Cleo is trained to multi scent many different types of furry critters. I am Going to work with Missy on man tracking so she can be a teammate to Betty. With that being said this is where you start to make some decisions. I will also add...This is not an over night thing. To get Cleo fully trained on Multi scent tracking it took almost a year. Most single scent, or specialized tracking can take up to 6 months to complete.
First:
You must have a dog, your kid brother or sister will fail and you will have wasted your time.
Second:
Decided which path you wish to take your dog down, and which specialized scent you want your little buddy to work.
Third:
Get started on basic commands, if your dog doesn't know them yet.
Mine are: Come, Sit, Stay, Down, Recover (I will explain), Settle, and Leave it.
Most have a problem understanding recover. It is a combination of a call off command, settle, and down/sit. I developed it over time, because I was annoyed of using 3 commands to get one thing done.
Recover with Lil' Misses: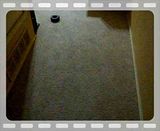 Forth:
Once your dog has a good grasp on basic commands, it is time for the games. This is where I teach the "find it" or "Search" command. Get your dogs favorite toy/item. Find something to cover it up. I use stainless steel bowls for small items and a towel for large. Show the dog the item, place it under the covering. Repeat as many time as needed to catch your dogs interest. Once your dog is interested in this new game, let him/her get a reward each time he/she put his/her nose on the item. Also, slowly add in the search, or find it command, as well as the sit command. Basically, you will be teaching your dog to point at the item with his/her nose and then sit. This is the signal that your dog has found the desired item when fully trained.
Fifth
: Change over to training treats after your dog has a good grasp on the desired commands, and he/she knows exactly what you want of them. Work with this, until you and the dog are comfortable with the progress made. Store bought scents are added during this phase also. You do not have to get a full carcass to train a dog to track an animal. All scent are sold on the net
Example:
http://www.gundogsonline.com/dog-training-scents/dog-training-scents-1.25-oz.html
I will add more in a bit. The next part will include diagrams of how to run straight line tracking through Obstacle tracking.