So we went to bed late Saturday night, and at 10am on Sunday morning Zoey decided it was time to play with Kasper. My bf had gone downstairs to toilet / play with Raiden, but I needed more sleep so he let Zoey go the loo then put her in her crate with a Kong.
Early afternoon we let Zoey out of her crate and knew immediately something was wrong...she was walking slowly, her body was dancing (tremors), her eyes were showing the whites, her ears were pulled back, tail extremely tucked and she was just acting terrified. I had a quick check and couldn't feel anything odd and she didn't act hurt. She just went to her bed and lay down, and slept unhappily. After five minutes the violent tremors stopped, and after 15 the gentle shivering stopped.
We phoned the vet and gave them lots of details haha, and they said as she hadn't eaten anything odd, been sick or had runny poops to see how she was when she woke up. After a few hours sleep she woke up and came and lay next to me on the couch, and the hard shivering started again.
We called the vet and said we would be bringing her in, then called a taxi. We put her harness on (she was eager to get outside)...and as soon as we stepped outside she was ten times better! Interested in her surroundings, walking normally, shivering stopped etc
The taxi we called arrived, by which point Zoey was 100% normal, and Zoey leapt in and was desperate to kiss the driver!!!
We got to the vet and went in and it was the wonderful vet we saw a few days before, who treated our puppy. She took us into the examination room and checked Zoey's eyes & gums (very difficult as Zoey was wriggling and wanted to give kisses!), her joints, tummy and heart and her temperature. The temp was the only bit Zoey didn't like, but all she did was wiggle and took praise and ham like a star
Vet had no idea what was wrong so gave her a shot of antibiotic and anti-inflammatory stuffs. Zoey didn't mind at all. The vet said she was a lovely girl, Zoey was amazing and very happy with it all haha. We got the taxi home then she had a short walk for being so good, and here's her happy face :rofl: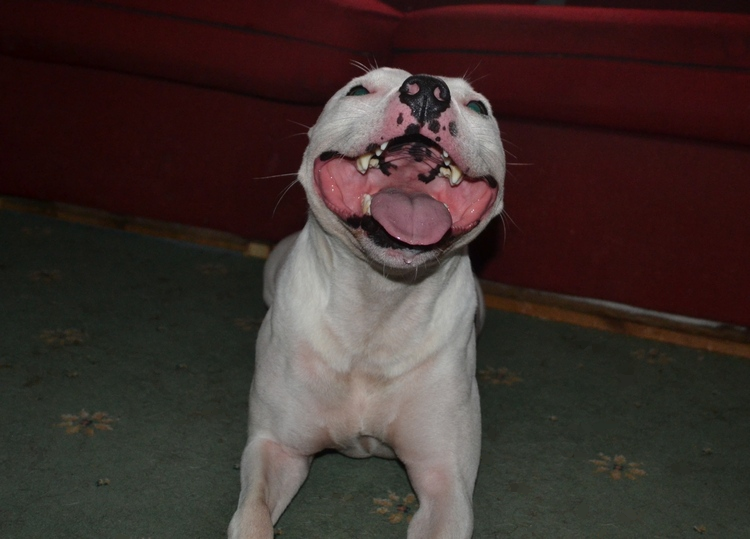 She was especially spoilt for the rest of that day, she got to play with any toy she wanted, including squeaky balls which she is usually banned from as she drives us crazy!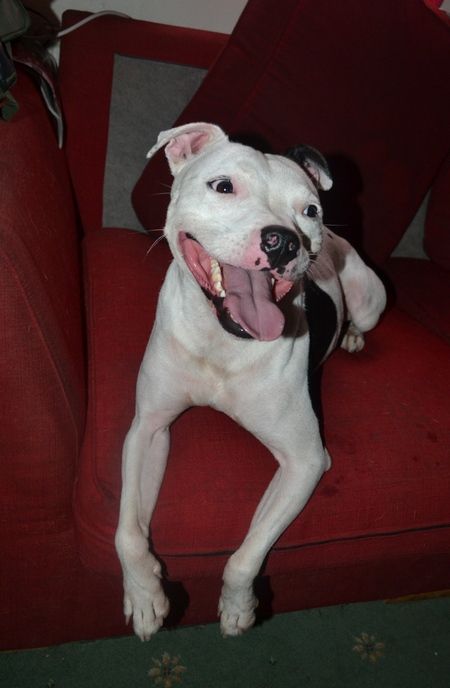 This was five minutes after getting home...she looks so HAPPY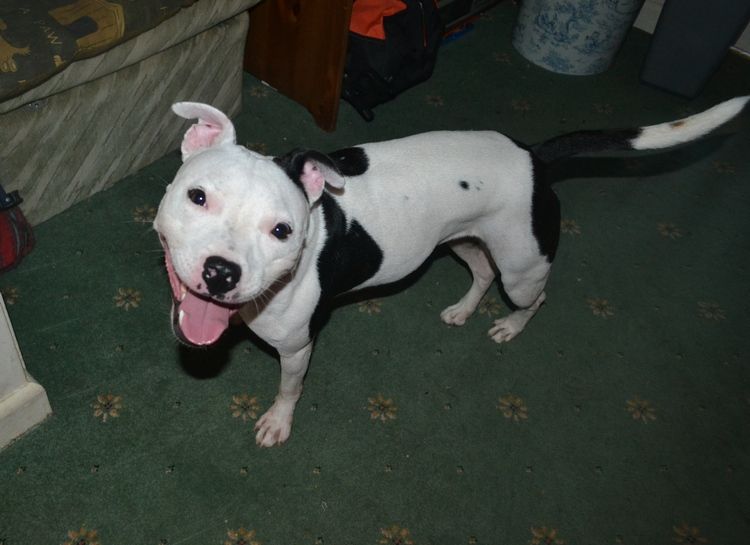 And she has since reclaimed the pen in the living room as her 'crate'
So yeah...really pleased you're okay Zoey and hope you're not poorly again...and thanks for making us spend £95 on an emergency vet appointment, then acting perfectly healthy and happy when we got there!
All we can think is either she had some sort of poorly tummy or such, and it scared her (?), or maybe she was feeling poorly and then something 'scary' happened whilst she was in her crate...she's scared of things falling, even plastic bags, so it's possible. Although she does very well with pain, she hates feeling ill (I think because she has only been poorly a handful of times in her life)...but thanks for making us totally freak out and think we were going to lose you, you big doofus <3