This is my boy Charlie. My neighbor's got him from a shelter (he's really their dog) when he was about a year old so nobody knows what breed he is.
The shelter called him a Border Collie but my neighbor's also had a Border at the time and let me tell you, he is not like a Border at all, except markings-wise. He doesn't show any sort of eye (7-8 years old now) and he's very people oriented. He howls kinda like an ooooooowwwwiiiiieeeee, hardly ever barks except when he's frustrated or playing then he kinda yelps. He also trees cats and raccoons and possums at night and stands guard under the tree howling. He'll also chase deer and howl after them too.
He's also very protective. I'm pretty sure he was completely un-socialized as a puppy so that could have something to do with it but I'm just adding it in anyway.
A really funny thing about him is that he has teeth that look like they are about half the size they should be. They are extremely tiny, to the point that he eats small breed kibble becuase it's easier for him to chew.
He's pretty high energy, loves to play fetch with sticks (the bigger the better) but he will settle right down and go to sleep after playing.
He's very intelligent too. I've taught him tons of tricks, like sit, down. wait (instead of stay), shake hands, high five, go around the house (front door to the deck), front door (back door to front), back off, excuse me, bow, etc... There are more, but I don't want to bore you. Haha
It might just be him but he's very into doing the "right" thing. If I correct him he's immediately on his belly begging for forgiveness. If he really wants me to play with him he'll start going through all his tricks with no prompting evidentally hoping he'll get to one that pleases me enough that'll I'll start to play with him.
Sometimes I think he's a giant mix of dogs but other times I wonder if he's just a mix of one or two that came out funny.
Oh, and he's about 45 pounds, at his perfect maintaining weight (eating 2 cups of good kibble a day) his last ribs can be seen and felt. He's around 19-20 inches tall too.
Pictures! Sorry for the novel.
And sorry for the sideways picture... I fixed it on photobucket but evidently not enough... Grrr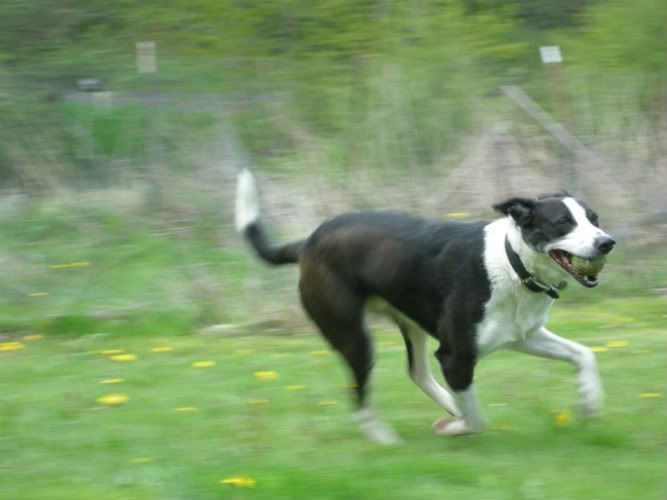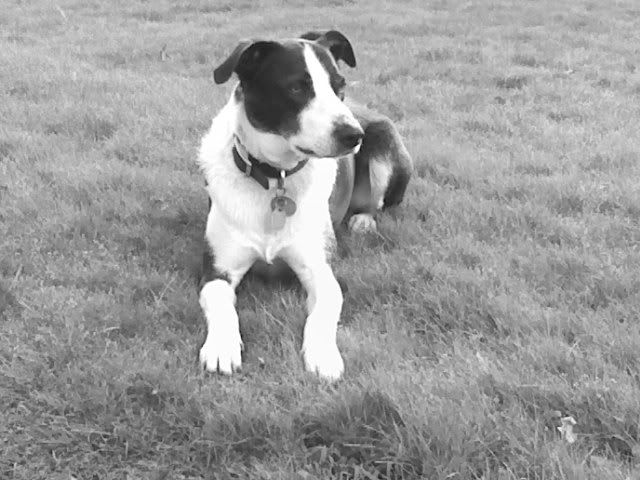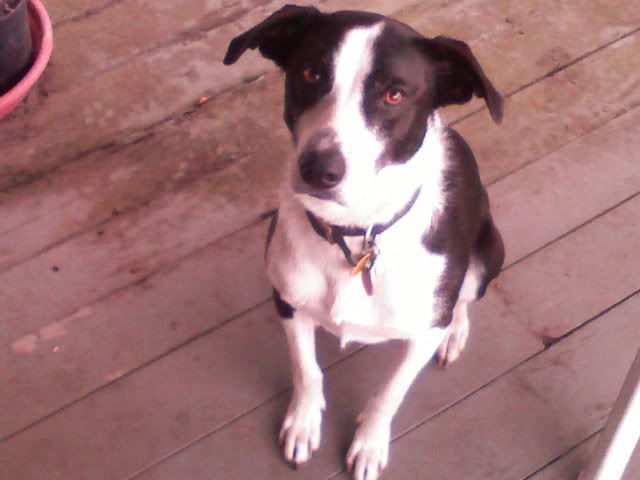 My stab at his breeds are possibly a greyhound/Border Collie, Pitbull (becuase he's very very silly and wiggly like pits I've met)/ greyhound/BC, Rat terrier and something bigger, Hound/something else... I really don't know. He also looks like a very small great dane when he runs sometimes, jowls flopping all over... I have fun thinking about what breed he is. Lol.