I caught him, but it sure wasn't easy. Total leash clip failure, and I still don't know what happened because we'd made it almost all the way around the block - his harness and the leash seemed very secure. It's a spring clip, like a carabiner where the straight edge just pushes in and springs shut.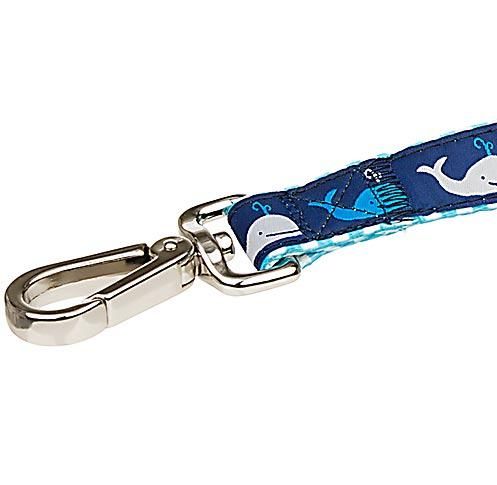 Anyway, because he happened to be focused on a rescue dog walking across the road (where the rescue is), he headed straight there at top speed. That was the good part (and no cars driving by, thankfully), that he was going somewhere specific that wasn't too far away. As I ran over, I called to the gal who was walking the rescue dog (a little terrier name Jebby) to hang on and that Cobber's not going to hurt anyone.
She was really upset, yelled back that they were fighting - they weren't, they were being terriers, running up to each other then backing away and dancing around in circles; it's apparently great fun, and no teeth were involved at all. So (I was still running) I tried to say again that it's okay, but she was flipping out.
Then I got there and, of course, every time I got within a millimeter of Cobber's collar, he danced to the side and kept playing with Jebby, who was also dancing around playing just as much. And the girl kept dancing around too, like Cobber was a rabid Baskerville Hound and she didn't want to be near him (he wasn't the least bit interested in her).
Being the calm person I am, I confess to swearing pretty emphatically a couple times when I came *so* close to grabbing him but landed on my knees instead (I'm not as young and spry as I used to be)
. I had treats with me, but nothing that was more interesting than a friend to play with. Anyway, I caught him after just 30 seconds or so, but it seemed an eternity. And the girl couldn't pull Jebby away fast enough as I said "I'm sorry" to her while clipping the leash back on.
I'm embarrassed by Cobber's behavior but not at all surprised by it. I'd love for him to be proofed on recall or even "sit" once I got there. But apparently all our training in that regard hasn't gotten anywhere when he's got a potential new friend to play with.
So, no question from me, just feeling very shaky after what was a pretty close call that could've gone a
lot
worse than it did. I guess I wish the gal had been a little less freaked out, but having said that, I've been the person walking my dog when another dog breaks loose and comes running at us, so I know it can be disconcerting. She's also probably never seen terriers play. I can only imagine what she'll be putting in her walking log back at the rescue.