Discussion Starter
·
#1
·
So we weren't planning on bringing a puppy home until next spring, but after choosing the breed we wanted we got in touch with breed clubs, breeders and other Border Terrier owners. We met up with a Border Terrier breeder and we got to meet six adorable 5 week old wigglebutt puppies
Anyway long story short, someone backed out when the puppy was 6 weeks old, and we said we'd love the little guy :dog-love:
Say hi to Raiden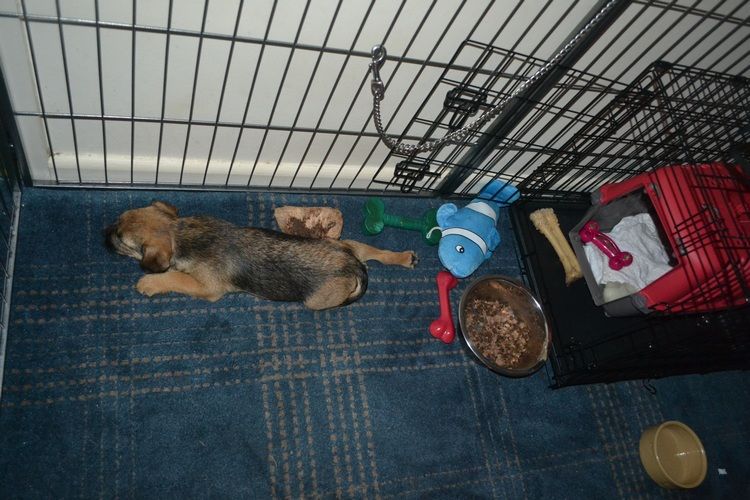 We brought him home at 8 weeks old, he's now 9 weeks old and he's been so good! He sleeps well at night, he's had two accidents in the house this entire time, and he already knows sit, lie down, touch, his name and responds to a positive interrupter. He's currently learning drop / leave it.
Zoey *adores* him, but I might need advice on getting them to be calmer around each other haha...at the moment when they play she won't tell Raiden off when he's being yappy and snappy, so we remove him and let him cool off for a while in his pen. Atm we're only letting them play for a minute or two at a time, although they do try get back to each other.
Kasper is being his usual moody self
However he is much calmer around Raiden, and of course Kasper is food motivated so keeping his attention is a lot easier
Kasper is also very willing to tell the puppy off...for example Raiden was bouncing on the edge of the couch and yapping at Kasper to try get him to play, Kasper gave him a growl and Raiden immediately calmed down...now if only Zoey could do that
So a few questions:
1) Can anybody share with me any photos or, even better, videos of different adult dogs interacting with puppies and what we should look out for? Or articles?
2) Tips on getting the dogs used to focusing and being calm around each other (I'm not expecting too much as it's only been a week!). So far we've had Kasper on the couch and Raiden on the floor; I train the puppy and my bf trains / plays LAT with Kasper. Raiden has no trouble training with me (walking to heel, sitting, lying down etc) and Kasper is happy to do simple tricks and calmly watch the puppy on the floor.
Our issue is mainly with Zoey, as she gets very focused on the puppy. When Raiden is awake in his pen it's hard for Zoey to focus on other things, especially if Raiden is also whining to get to her! If Raiden is awake but quiet in the pen (say my bf is with him or Raiden is chewing a Kong) Zoey will settle with a nylabone or a Kong of her own...but if the puppy is active or noisy she just wants to be with and interact with him.
When Zoey is playing with the puppy, Raiden will come away when called, but Zoey won't...treats are so not high enough value, nor are toys :eyeroll: This means we can't call Rey away either because when he comes to me Zoey follows and distracts him!! Should we physically separate them, by picking Raiden up? We would have Zoey trail a longline but Raiden has a thing for leads.
So far Kasper and Zoey are interacting with Raiden one-on-one, as on the second day when they were together Kasper redirected his frustration about the new puppy onto Zoey and growled at her. So we're letting them adjust to Raiden alone until things are calmer and more settled. They do get times away from Raiden to interact with each other. Any tips on when / how to have them all together?
Hopefully this post makes sense, but I have a tired mushy puppy brain haha...I'll post more puppy photos and updates in the thread in my signature later today once everyone has been walked and tired out!