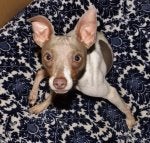 He's turned into such an incredibly beautiful dog! He gets compliments and is cooed over wherever we go, although no one knows his breed. He's doing well in agility, finally starting to really want to work on his obedience (rather than the constant persuading and coercion I had to use from 5 months-14 months). He's come out of adolescence a friendly, social, outgoing dog that loves other people and dogs. I took him to an incredibly crowded fair this weekend (no idea it would be so crowded). He navigated NYC-like crowds with ease and interest.
Seriously though, he is the best-looking dog I've ever owned. I have to feed him like a horse to keep weight on him, and he needs home-cooked food in addition to kibble or else he turns into a rail. After a suggestion from a life-saving member of DF, he's on a modified "Satin Balls" diet that has worked wonders when nothing else has.
P.S. his nails got trimmed right after these photos.
p.p.s His ears are even and both fold over at the tips as you can see in the standing photo. The tips just flip up when he's sitting down with his head lifted