Discussion Starter
·
#1
·
Shadow was onced named Paws but my mother and sister decided to change the name since Shadow really was my shadow. She was always right behind me, following me everywhere I went. She was my shadow and the name stuck. Has nothing to do with her color, just so we are clear.
Shadow was a birthday gift gone wrong, which is why animals don't make good gifts, she lived at that house for 7 months in which time she had her tail broken, gained a fear of men, and also a nasty hate for other dogs. The first owner and the person who gave him the dog broke up, she happened to be a friend of mine. They kept then Paws for about 2 weeks before her father had enough of the pup and we were asked to hold on to her until they found a home. It was not uncommon for us. We took in animals all the time then to find a home for them. So we took her in problems and all, which we were not told about. We were also told she was spayed, imagine my shock when she went into heat. Anyways, along with the dog we were given a crate. It was clear she had not been crate trained, just thrown in when it was time for them to leave. For the first few weeks things were fine. Her and our other dog got along fine. We were working on crate training and house breaking because at 8 months of age she was not yet house broken. We don't have many males who come in to our house so we learned about the fear of men the hard way. My then boyfriend came over, he had been out of town for training, well needless to say she would not let him in the door. Growling the whole works. Thought it was just because he was coming into the house, nope. After that point I started taking her places. The pet stores in the area, parks, anywhere that she would see more people and animals. Well, she almost killed a dog. She was on leash, the other dog was not and the dog came up to her. I had her on a long leash, 30 ft, cause we were playing ball but I did not and still do not trust her. The other dog just wanted to play but Shadow did not. I was puzzled at first since this was the first I was seeing this. The other dog's owner was freaked out but did not say much. His dog was the one off leash in an area where all dogs were to be leashed. This happened again and again. That was the last time she was able to attack a dog other then our own. I'll get to our own dog fights in a moment.
So when I would take Shadow anywhere other dogs would be she would freak out trying to get to them. She scared the other dogs and owners. Started thinking it was me so I had a friend who is also a dog trainer walk her. Same thing happened with her, Shadow tried her hardest to get to the other dogs. Trust me when I say, she did not want to play. So my friend and I have been working on this problem. Its gotten to a point where she can have other dogs around her as long as they don't get to close and are not to wild. I am proud of how far she has come. I can walk her through a pet store without her trying to eat the dogs, I am aware though of where all the dogs are and if I would be pushing her to far. I will tell people in the check out line if they come up in line behind me that she may attack their dog if they get to close. They normally go to another line. I have had many people tell me I should not bring her out into public, that she is a risk, pssst. I can handle her and even if she were to get in a fight I dont care if she bites me. I'll deal with it at a later point in time. Me having her out where she has to deal with dogs has been the best thing for her. She is learning. Every day is a learning day.
Now for the male fear, this is no longer there. Love from every male we saw quickly fixed that one. She would bounce between hiding from them and growling at them. She never attacked them. I am very happy with how this one ended up.
And the household fights. Blamed on my dog but without a doubt should be blamed on my mother's dog and my mother. Both dogs have rules with me. No jumping on me. Not allowed on my bed. Only allowed in my room when called in. No joke they will stand at the doorway looking into my room and if I don't call them in they will stand there or leave. It's kinda cute. Anyways, they don't growl at me ever. They sit before I touch them or give them anything. While walking neither pull me. They sit before I open the doors. They lay down when meeting new people. They are both smart enough to understand that I'm not playing around. No I have never used force with either dog when not breaking up a fight. In my house, sadly the ranking is; me, the cats(I made sure of it), Shadow, Daisy, mom, sister. I kid you not. Both dogs clearly rank over the other two humans in the household. I have seen both of them be growled out of their beds. My mom and sister have no rules when it comes to the dogs to them. However the dogs clearly have them trained. They are able to jump on them. Sleep on the beds. Enter rooms without a welcome. Eat their food. Demand things. Growl. All the things dogs should not be doing. Anyways back to the fighting. There would be times when my mother and sister would leave for weeks on end and I could not go due to work. So I would stay home and watch the dogs. In the 12 times that this has happened, not once have I had a fight. Had a growling happen and it was quickly stopped with a sharp no and that was the end of it. They would eat their food right next to each other. Sleep with each other. There was order so it was peaceful. Once my mom and sister got home hell would break loose. There was never a fight while I was in the room but if I was in my room or out for the day fights would happen. Mom always said it was my dogs fault, when you see the pictures you will understand why Daisy was always the ones with blood leaking out of her and Shadow would hardly be touched. So I decided that I would watch one day, normally the fights were over food. So I had my mom put some ham down on the floor while I hide. I watched as my mom's dog started the growling and made the first move. Shadow just attacked back for being attacked. I know it might seem wrong that we were starting fights but I wanted to see where the problem really was. So we did it a few more times. Each time Daisy started it. Most of the time Shadow did not care very much about the food. I also noticed that my mom would put the food down and leave. So I had my mom put the food down and stay there. Fight broke out. Two more times, same thing. So I did it. Put the food down, stayed there. Both dogs did nothing. Just looked at me. Daisy sniffed the food some but did not eat it. No growling nothing. So needless to say, the blame lands on my mother and her dog. I have tried working with my mother. Its a lost cause. Nothing I say matters, even though I am training to be a dog trainer. I am working with a dog trainer. I work at a vet office where I have vets telling me how to shove it left and right. Nothing I say matters. So until I am able to move out, I don't know how to fix this one. I got the dog problem down and the male fear gone but this... I dont know.
So I guess I should just get on with the photos, now that I have bored you all to death with that. Though if anyone has ideas, please feel free to share them. If you think I did something wrong, you can tell me but you better have a reason for thinking I was wrong and give me a way to fix it or I might just tell you to piss off. I don't mind being told Im wrong but I hate it when people tell me that I'm wrong and give me no way to fix the wrong. Remember, if you have nothing nice to say just don't say anything.
Pictures. First up my baby doll, Shadow.
From the small amount of snow we got.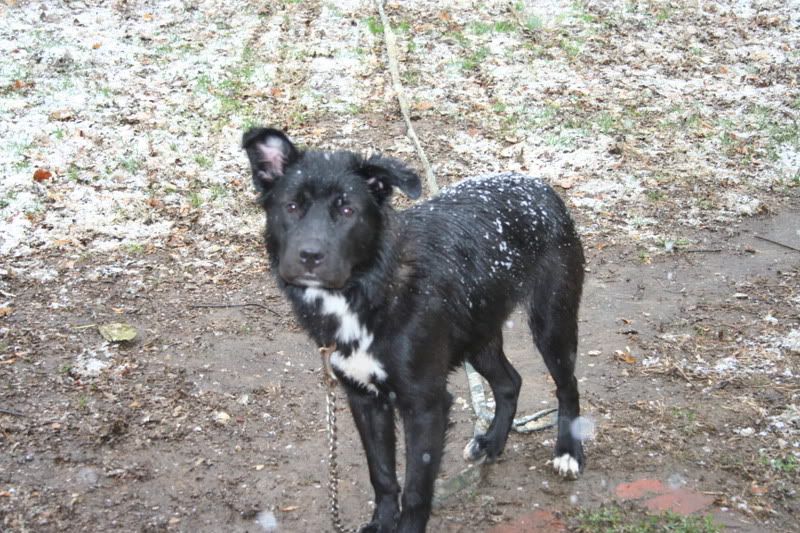 She is a pretty girl.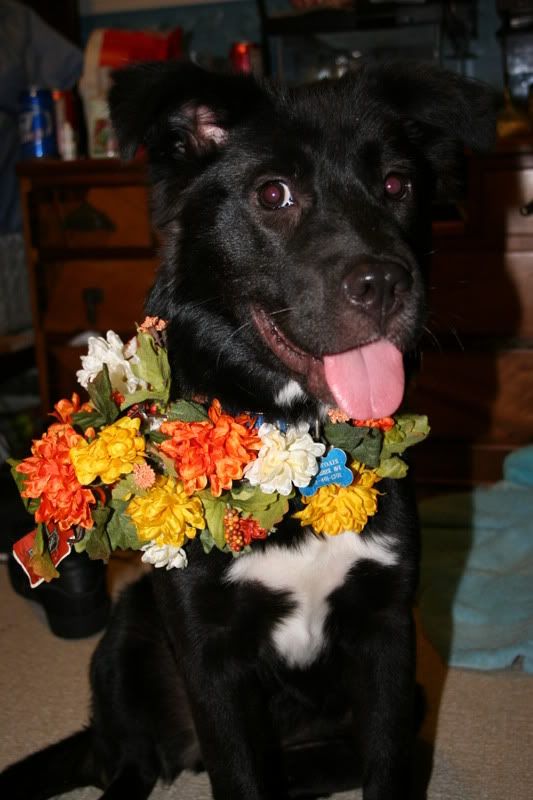 Any ideas on breeding would be great also.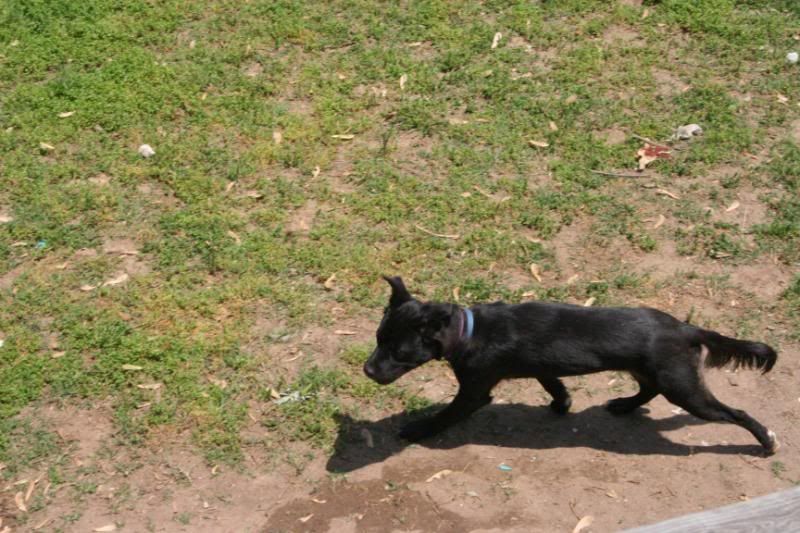 Daisy. She was a stray that we took in.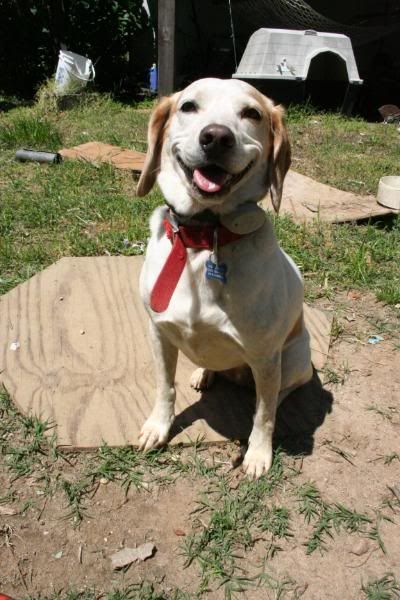 I have more of Daisy, just not on this laptop. Sry.
Also, Daisy is 6 and Shadow will be 2 in April.