Discussion Starter
•
#1
•
Some here might remember her story and how for the past 5-6 years I've been working with her, to help her with her trust issues. She lost HaHa as a companion, and now has AU and she's stabilize a lot in the time that I've had her, as far as her fear of me, and her panic attacks. She even enjoys my company and comes into the computer room to lay down by my chair. She also doesn't get up and run away if she's laying down in the living room and I walk past her.
I'll probably never be able to just walk up and touch. or pet her though...she still won't allow that. But she will take food from my hand, and she always comes back to me now when I call her and I can even trust her now to go out the front door into the un-fenced area without me in a panic, thinking she will run away.
And...last year, she learned to enjoy car rides.
She even gets a bit excited knowing she and AU will get to go with me sometimes when I leave the house.
Anyway... kind of bad news. About 2 months ago, I noticed Jaya started panting a lot more than I thought she should be doing. I thought at first, maybe I just had the house to warm...it was still winter conditions.
But...I finally realized something wasn't right. So I, sadly, had to stress her out by catching her, putting her collar and leash on, and taking her to the vets.
Given Jaya's age...which is probably 11 to 12 years old, her use of steroids for her summer time allergies, and her panting almost non stop. My vet thought maybe it might be Cushing. In which, case, I would have had to put her to sleep....the meds are expensive, and the chances of the dog living for even a year isn't all that great...and for her size, (75 pounds) she's lived a nice long life.
So I had the tests done...which is an all day thing. I had to leave her with the vet around 9 am, and wasn't able to get her back until 7 pm. They take a number of blood draws before and after giving her certain drugs to see how her body reacts to the drugs. Then those blood draws had to be sent out to an outside lab...so it was almost a week of me stressing so much until the results came in.
Fortunately... it's not Cushing. I almost cried when I got the results.
So, now... on Tuesday (June 2), Jaya will go in for some imaging to be done on her heart, liver, and lungs...to see if something is going on there. The vet said that sometimes heart issues...depending upon which side of the heart is affected...can make a dog either cough, or pant heavily. I've had dogs with heart issues that coughed...but never panted.
I never thought I would say this, but I do hope it is a heart issue...one that meds can help out. I've read that older dogs can often live a few years comfortably with the meds, which don't have severe side effects and also which are not too expensive. [I'm dirt poor, for those who don't know...I'm not cheap... I would and have gone into deep debt to help my pets]
Anyway... fingers crossed for Jaya. I am hoping now that it's not some cancer or something. She's not the most affection dog, but she's given me everything she can give...she's over come her terror of humans, at least with me and looks at me with trust now... as long as I don't try to touch her.
I love her, she's just a lovely quiet brave soul who endured 5 years of torture and neglect. I would love to see her get a lot more than 5 years of peace and feeling safe...so yeah, I would love to see her live another few years.
Here's a photo of AU and Jaya each eating a pork rawhide treat in the cool morning and in the shade of the porch roof last Friday.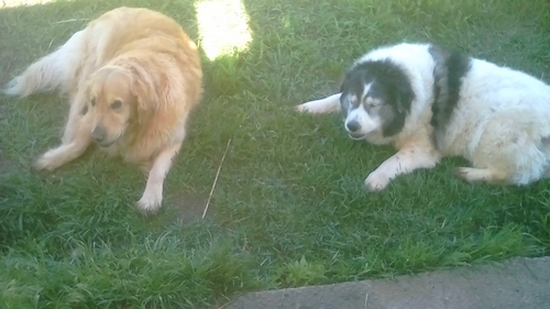 Stormy