Discussion Starter
·
#1
·
Hello!
I am a new puppy owner, and have come across this forum a few different times while Googling information about my pup, and I wanted to join in.
My pup, Flynn, is 15 weeks old this Friday. His mother was a beagle, his father was a Border collie. I'm embarrassed to admit we found him on Craigslist. We thought he was part of an "oops" litter, but apparently, the family he was with had an "oops" litter previously and it "worked out so well" that they did it again on purpose. Unfortunately for our scruples, but fortunately for our hearts, we were already completely in love with him, and he had to come home with us. He was 10 weeks old at the time.
Could you say no to that face?
He's doing GREAT with housetraining, and has only had two accidents in the past two weeks (one after I told my daughter to take him out, since I was in the middle of scooping kitty litter at the time, so I think it's really one accident). He has the commands "sit", "go to bed(crate)", and "off" down pat, and is making progress on "leave it" and "stay" and "ok (release)". He can do "down", but needs a hand signal. What he DOESN'T have is a solid recall, but we're working on that too.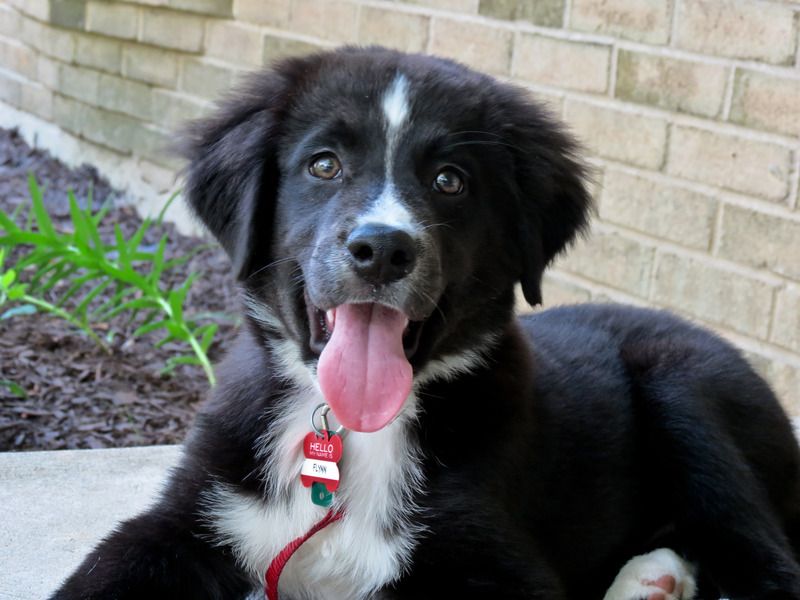 He loves peanut butter filled Kongs, ice cubes, soft training treats, his stuffed chameleon (he's loved it into shreds twice - Amazon must love me), playing tug, and chasing tennis balls. He'll even bring them back - and walk past me to go chew them somewhere else in the yard. *sigh*
He's starting to love daily walks on the rail trail, but he doesn't like when we want him to actually walk instead of smelling wildlife scat. He adores car rides, especially when we're on quiet streets and we let him poke his nose out of the window.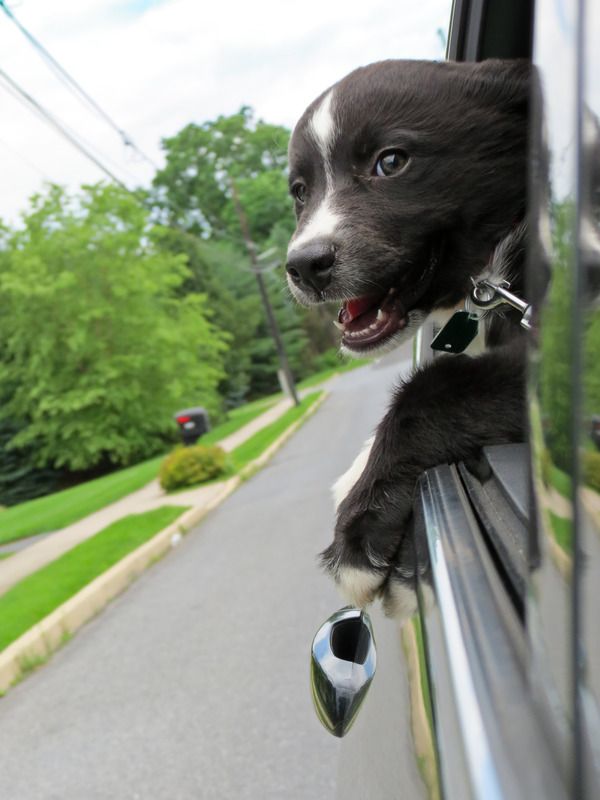 He loves the cats, too. He especially loves to chase them. They don't love him so much. Fortunately, he hasn't mastered the stairs, so they are living (unhappily) upstairs until he is crated at night, at which point they mock him mercilessly by snuggling with us in plain view as much as possible while he whines and occasionally barks at being left out. They'll come around.
We've only been dog owners once before, and while we loved her, our Honey was a challenge as a rescued adult dog who had been chained outdoors constantly (information we only got from the shelter AFTER we adopted her). We didn't really know how to train a dog with her level of anxiety and issues, and our 6 years together weren't ideal. Still, it broke our hearts when she had to be put to sleep four years ago, and it took us a long time to decide to get another dog. We're determined to make Flynn's home the very best it can possibly be, and we are working hard to love, train, and take care of him!
Looking forward to getting to know all of you and your pups!