Discussion Starter
·
#1
·
IIRC we have some german members here. Maybe some of them can help me understand the Alpine Shepherd. I have not encountered this breed before and there doesn't seem to be much info in English. Google translate can only get me so far.
My base question is, which of these 3 is it?
#1 is this an ancient breed/landrace of small herding dogs...because there are many country specific and regional specific landraces especially of herding and flock guardian type that are now being recognized as official breeds. It is being done at the last minute for some, many regional landraces have faded into extinction or have blended too much with other dogs.
#2 is this a reconstruction/rescue of an ancient breed/landrace by taking the last few survivors (or no survivors) and mixing in various other breeds to rebuild it. This has happened with many dog breeds after WW 2
#3 is it a brand new breed someone created and cooked up a romantic backstory.
What I think I known
A. it is a small herding dog supposedly 6-18kg (13- 40lbs)...with most looking smaller than than 14kg (30lbs). While smaller than many, the Mini Aussie and the Pyrean Shepherd show us that herders of this size can get the job done. And this small size is what would make this stand out as a specific regional breed if most herders around it are bigger.
B. Except for size it general structure, coat length, tail carriage, ears all look classic herding dog.
C. Coat coloration. These dogs seem to come in an ash merle, black with tan points, solid black, and solid fawn. These are all colors I have seen in a lot of the regional herding breeds be it Mudi, Croatian Sheepdog, Carea Leones (sheepdog of Leon region of Spain) etc. There is one coat color I haven't seen before, a solid black with patches of reddish rusty fur.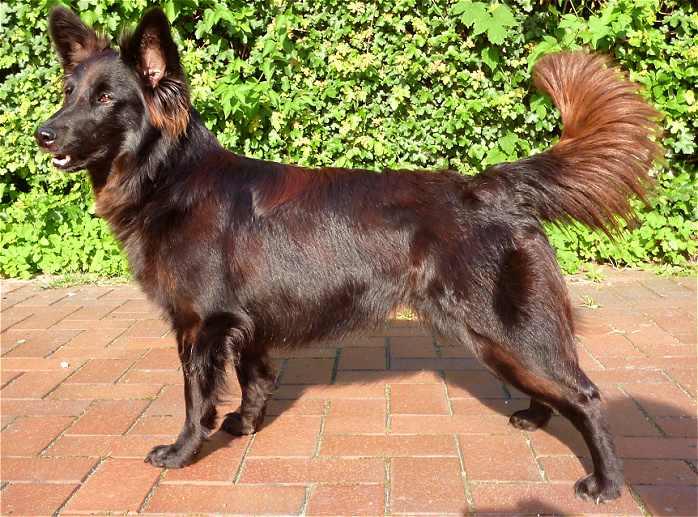 I have found one reference that appears to be a school paper written by a student that talks of a Lebanese origin for this breed. I think that is a reference to the Phoenician Traders who came from that area of the world and were ancient traders on the Mediterranean sea spreading goods and culture. There are some theories that they transported sheep and sheepdogs around the mediterranean including Italy, and the Romans spread the dogs to various other European areas. I don't think it is trying to say it is of recent Lebanese descent.
This same article does seem to mention crossing in a Sheltie. This is what makes me think it might be a newly created breed just given a fancy backstory.
But then again oftentimes small regional populations have a lot of mixes and if you are trying to get it solidified, often you take the purest animals you can find knowing full well some are mixes.
What are they saying in this video?
https://youtu.be/OuVRjNPSQnQ
Some websites I cannot read
Home
Intro