Discussion Starter
·
#1
·
first post too
Well, my parents had a couple lap dogs when i was younger, but they weren't so much as potty trained, and i plan on doing things a lot differently. It will be the first dog my kids have ever had, they are aged 10, 4, and 2.
We'd been planning on getting a dog for a while. I've been slowly collecting dog supplies and building our emergency fund (to cover unexpected vet bills) over the past year while i stalked our local SPCA website. I could go on and on about my preparations, but suffice to say that I've been a bit obsessive over the right toys & treats, and have been scouring the interwebs for positive dog training videos.
During this time i kept editing the list in my head as to what a perfect dog would be. I decided that I wanted a lab mix. 40+lbs (big enough that the kids wouldn't be tempted to carry it/think of it as a toy). Short hair, preferably female, had experience with kids before. Between 1 and 4 years old (I did NOT want a puppy, but we just buried our senior cat and I didn't want to do that again any time soon)
Well we went to the shelter yesterday to go look at dogs, and we found one we fell in love with. And he's
nothing
like i imagined our first dog would be.
He's 19lbs, some kind of terrier mix, wire haired, 6 months old, male...but we felt he was perfect. When we came across him in the cage, the other dog in there was big, barky, and rowdy, completely overbearing, but the little guy didn't bark with him, or snap at the bigger dog when he knocked him over. He was super happy to see us, and greeted us at the door without jumping up. We took him to the puppy room to visit and he was super excited and licking and jumping and playing (and no wonder, with all 3 of our kids in there with us). I had some dog treats in my back and he kept smelling them, but when i went to get them out, he sat on the floor and waited for me to give it to him. WE just couldn't resist his charms. :dog-love:
Unfortunately he's not home yet. He needed to be neutered before we could bring him home but we are hoping that he'll be here by Wednesday or Thursday.
This is our little guy.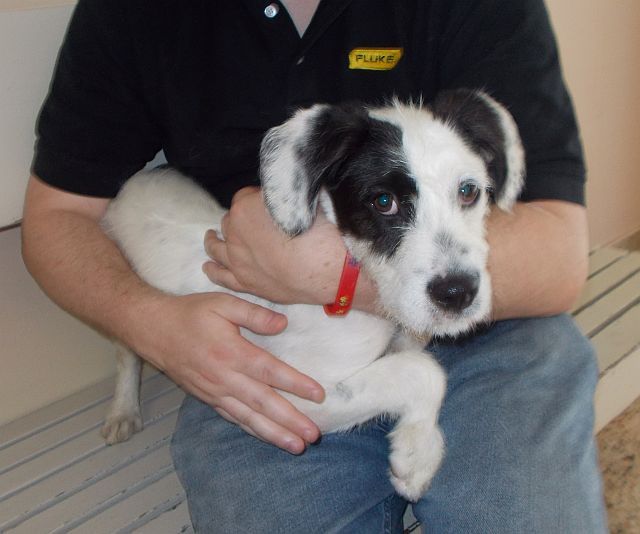 We are still debating about his name. His previous owner called him Puppy, so we are trying to think of a fancier name to make up for the original oversight
We know we don't want a People name for him, but we haven't found a name that will fit yet.
Also, we have no idea what kind of mixed breed he is, what do you think?