Discussion Starter
•
#1
•
I retire my dogs' collars after I put them to sleep...they are hung on a hook and each dog get's their own new collar and usually leash too.
To go back a bit...
When I adopted HaHa, my mentally handicapped golden retriever... he came with a solid blue nylon collar 5/8 inch wide x 24 inches long. He wore it at about 23 inches, and it hung fairly loose on him without sliding up around his ears when he lowered his head. : )
When I got my Golden, AU, I found out it was Really hard to get a collar longer than 22 inches without the width being 1 inch.
onder:
He needs about a 24 inch long collar, for a loose fit, and I loved the narrower width of 5/8th inch wide one like what HaHa had - wish I knew where that one had been found.
I managed to find AU a solid green nylon collar 5/8 inches wide but it's only 22 inches and is a bit more snug than I like, even if I was inclined to go for a more perfect fit. But it has a feature on it I hate.
It has 1 metal circular ring, and the snap-buckle has to be threaded through it before it can be snapped into the other part of the buckle. It's an absolute pain to get on and off....and you have to unsnap the leash to get it that buckle through it, no matter if you're putting the collar on, or taking it off.
And...his I.D. tag has to be wired onto that same ring. I always have to move it out of the way to get the big bump of that buckle past it. HaHa's collar had the same type snap-buckle and I could use just one hand to unsnap it - but even then, often all I had to do was pull it over his head..didn't even have to mess with buckling and unbuckling his collar. But, if I wanted to unsnap it... I sure has heck didn't have to unsnap the leash or move the tag's wire out of the way to get the collar on and off.
But with AU's it's a struggle to pull that buckle through or out of the ring.
I can't even pull the collar off his head...since it's too snug to pull over his ears. I only put AU's collar on when I take him someplace so putting in on and off, slightly bent over while doing it...also is murder on my bad back. I wanted to get rid of it several weeks after buying it. But, I haven't be able to find a collar that was both narrow and long.
Every once in a while I would google things like custom dog collars, but would be sent to places that offered embroidery on collars, or leather collars with the prong type buckles rather than snap-buckles. I also like nylon better because it's supple, and doesn't smell like a dog treat. Yeah, I've had a few leather collars end up that way.
But finally, tonight I found a site that will make the collar in the width I want, and the large dog length - so I could get a 5/8 x 29 inches (adjusts from 17 to 29 inches)....so I can make it 24 inches long for AU. :thumbsup:
Also, I can get a leash in a matching pattern in the width I want for it too...which I do want a slightly wider leash, and it will show of the pattern more. So I'm going to order a 6ft leash in 3/4 inches wide.
It's probably more than what I should be spending but my birthday is coming up on the 14th, and I've been saving money all year to buy myself something I wanted...and...yep...I'm spending it on the dog.
Here's the pattern and collar I ordered. It's called shimmering pine cone. I think the white and greens will look good against AU's golden hair.
AU's tag by the way looks like this, with his ID info on the other.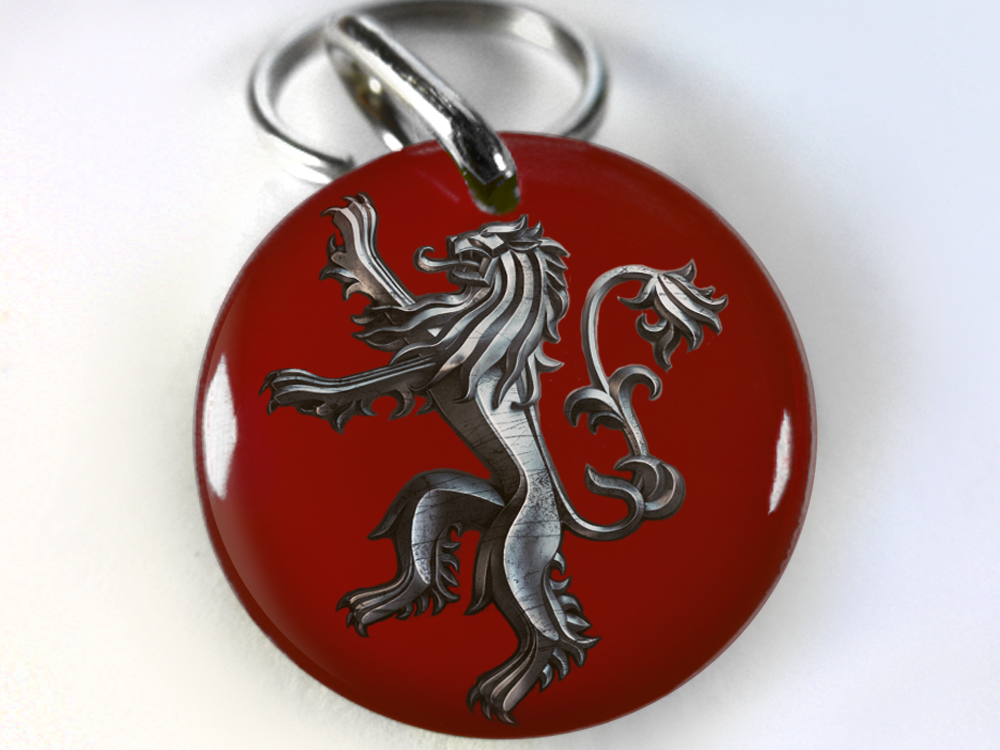 Stormy