Discussion Starter
·
#1
·
Zoey is about 20 months old now and we've always just called her a terrier / Staffy mix. I was just wondering what anyone would guess is her breed / mix
Please note we live in the UK, so she's not a pit. We know she is mainly, if not all, Staffy but I was just wondering if there were any other guesses. She looked very EBT as a pup with her head shape, but as she aged it become more Staffy like!
She's pretty small (we've never seen a Staffy as small as she is and have seen JRT that are bigger) but that could just be down to bad breeding? She's medium-ish energy wise; she will sleep a lot in the morning / early afternoon but then get really energetic and won't settle even after a long walk and training.
She's not particularly food motivated at all, in fact she won't even eat her daily allowance of food. She does learn new tricks very quickly and is willing to learn / please.
Side view (see that black speck? She was sniffing / licking a bug on the carpet lol!)
She definitely has the Staffy head!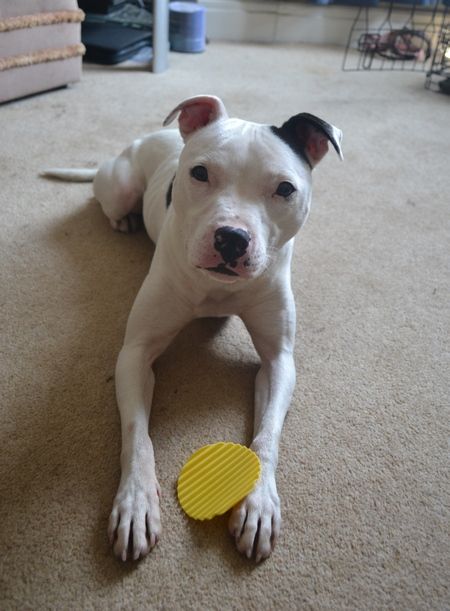 And the Staffy smile!!