Discussion Starter
·
#1
·
Right now we have two options for a fence for Loki.. A welded wire fence or an invisible. My fiance is leaning towards the invisible fence and I'm leaning towards the wired fence. I think with training, Loki won't try to jump it.. I'm not really worried about that though, since he isn't ever out for long by himself anyways. He can barely jump up into the car or on our bed which is 2ft off the ground.. He's not getting much bigger either.
Our breeder suggested the welded wire fence to us as an affordable solution to fencing and I just prefer it.
I'm basically just trying to sell my fiance on it.. Though If there's any reasons why a welded wire fence is bad, please let me know your reasons why. I'm mainly just looking for a visual and physical barrier for Loki when we are playing with him outside.
Search Results for welded fencing wire at The Home Depot
That's basically the kind of product I'm looking at for it.. Either 3ft or 4ft.
So questions/concerns:
- That it won't look great.
- How well does it hold up if installed properly? Do they easily get bent and give away due to the weather?
- My fiance is concerned mowing the lawn along the fence line will be a pain or impossible.. We only have a lawn mower as well.
- Our back yard is partially rocky terrain and my fiance is convinced there's going to be a rock in every single spot we try to put a post.. The only visible rocks are towards the middle or middle back of the yard. If posts need to be every 7-8 feet from each other.. I think we'll be fine, but I kind of see his point..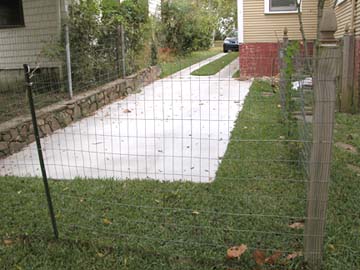 My fiance says we'll need to get a land surveyor out to the house and figure out where to do it if we do an above ground fence, which will be pricy. A neighbor on one side has a shrubs along the split between our yards and we're friendly with him.. I'm pretty sure anywhere beyond that is our property, unless he decided to plant some lovely shrubs for us! Our other neighbor informed us last summer a tree that we thought was his, is actually ours. I'm pretty sure it's /right/ on the border and I think we could just use that as a guideline. I feel like he's making it more difficult sounding than it has to be.. Or am I making it too easy?