I've been here a while and I think its time to fill you all in on the physical quirks of my pups
Emma...when I got Emma she was shutdown..You talked to her and she cowered...very sensitive dog
...all of her canine teeth were broken
...vet thinks she chewed on rocks or som'thing...its possible they were broken by physical trama tho.
Critter...Was dancing in her cage at the pound..I looked at her age and her cloudy eyes and thought....wow no ones going to adopt this one...after talking to the staff they recomended her...go fig... walked funny...trip to the vet and
xrays revealed deformed femur...30% shorter than its supposed to be and bumpy.
Tippy...aaaaahhh tippy...my little medical enigma...she has "nothing wrong with her" according to the vets...
brain and back legs don't communicate correctly
...so shes walks like a drunk...shes in no pain.
Fast forward a year...I take her in for what I think is an ear infection and low and behold...
no eardrum...and ear canal is small and deformed...
Kiwi had generalized demodectic mange...she had maybe 20% of her hair...looked like a nekid little pig...she also had a prolapsed uterus as a puppy...lived in the shelter a year and was returned once (no idea why)
Chili....well visuals are better with Chili..that red is not a trick of the camera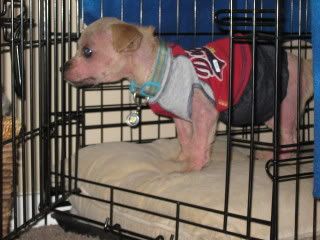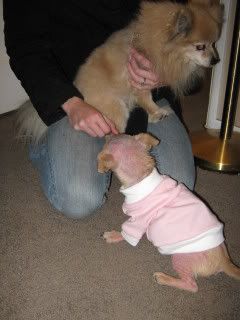 5wks old...mange...yeast infection of the skin...baterial infection of the skin.....giardia...full of worms.. he has pus filled sores everywhere....just basically should have been dead...he wieghed about 2lbs at the time. You can't see how thin he is under all those doggy clothes.
So...the reason Im putting this all out there on the table.
These dogs are obviously rescues...
they are polite, charming and just generally great pets...but no one wanted them because of these treatable and liveable problems. They had behavior issues that were overcome as well.
They are sweet souls who deserved better than what they were dealt...
I have spent countless hours at the vet...and spend whole paychecks on vet bills...
but to me its worth it.
look at chili now.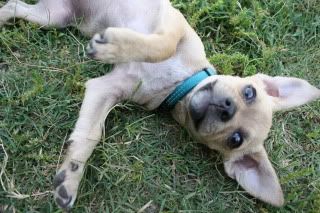 Dog | Forum | Rocks!