It is a totally new experience when it comes to owning dogs. I have firsthand experience with this as we got Murphy and Harper, sisters, about two weeks apart. The rescue we got them from wanted to give them a couple of weeks to settle in, which we were totally fine with. Not to mention we were finally buying our house and the one we were in was being rented with a two dog limit on it.
So first came Murphy. She is spunky, outgoing, sometimes overbearing, brilliant, and responsive. She is our pit mix, some say Boxer and some say Great Dane, either way she is simply lovely. She slept well in her crate from day one, well, well for a puppy. She cried a bit, whimpered and whined, nothing out of the unusual. She probably was not as well house-trained as she could have been, as we were in the transition of moving. I did train her though, she quickly picked up sit, stay, leave it, drop, the normal stuff. She played with my older dog, Peanut, very well and all that good stuff.
After two weeks Murphy was about 90% potty trained, with only having accidents every couple of days, and on a very rare basis. Then came Harper. She was terrified of the crate, had pretty much no training, and was a very shy, almost to the point of peeing every time someone came near her. But we had seen how the people who fostered her treated their dogs, and I donít blame her. We were told that she had crate fears because she wouldnít stop crying and one of the people had repeatedly hit the kennel, a simply brilliant idea.
Anyways, Harper picked up a few commands such as leave it and sit. Although she is shy, hard-headed, easily distracted, and not very motivated by anything. Which makes training sometimes frustrating, not to mention her obnoxious way to try and dominate everything she sees, ie other dogs, my cats, my chickens, the neighbors goat. Luckily the cats are not fazed by her and she just doesnít go near the chickens. Anyways.
So then came the training of both of them. They were always competing to be first with everything, from feeding to walking to playing. So we walked them separately and made sure each had their own play time to help with bonding and such. They both walk lovely when they arenít with each other. They can be with other dogs and they are fine. But if you walk them together you get the most awful pulling, and it seems nothing really helps that, so walking separately has been the solution. They are trained at different times, just because it is much more convenient.
The only thing I regret doing is letting them sleep in the same crate. We had them in separate crates but Harper would whine and cry and that would set Murphy off and so it was just easier, so now you may hate on me for giving in.
Weíve had trouble with poop eating, puking, skin infections, fights. The first three were all Harper, from an allergic reaction to food and we never understood the poop eating part, but correction and pineapple we eventually got the issue under control. We dealt with Coccidia when Murphy first got here, they said it was probably from being in a kennel, as in pound. Then came Harper with kennel cough which ended up with all three of the dogs, Peanut, Harper, and Murphy on medication.
At about six months my brother, sister-in-law, nephew, and their dog moved in with us. Which put us at four dogs, three females and a male. As Nathan was at one point our dog he and Peanut have been acquainted and are friends. Our second mistake came when we simply reintroduced Nathan into the pack, not on neutral territory. Murphy and him did not hit it off. There was a lot of stancing which was corrected. Luckily it never evolved into anything more. Harper and Nathan as well did not hit it off, but Harper is much more submissive and gave into Nathan.
The only issues arose when Nathan went after Harper and ended up being attacked by Murphy. So yes, another thing you must watch out for is ganging up. We donít introduce them to other dogs or let them play with other dogs when the other is around. We take them separately to the dog park, or to have a play date with our neighbors dog, a boxer who plays just as rough and crazy as Murphy and Harper. And the ganging up thing doesnít only exist in pits, as my friends have two litter mates, jrtxrat terriers and those things are nasty little things. They will gang up and attack anything, they especially like to attack legs. They just havenít figured out when they bite I will kick.
Anyways, being an owner of litter mates there are things I can say you must watch out for. Training, you must be willing to spend time training them separately, that means not only training but walking, bonding, playing, ect, all separately. As it helps to let them develop into their own dog. They will gang up, as even some dogs whether litter mates or not will gang up. You canít just let them do their own thing, because they will get into things. It is like having twins, you have double the amount of work. You will probably have issues with separation anxiety no matter what, I know we still do. Although not as severe as some cases they pups will be stressed out, pacing and panting and whining while the other is away.
As for the future, after this I donít plan on getting two dogs from the same litter. I wouldnít trade my dogs for anything, but I know they would have been better off if we only got one. Giving one or the other up wasnít an option for us. Luckily we have plenty of people in my house who worked with them. Potty training was difficult since we were really set on a routine until we moved. Then we taught them the bell technique which worked miracles. I think it was probably more difficult also to potty train them then it would have been separately. But oh well.
Anyways, I hope some of you who are looking to get litter mates read this and understand how much more difficult it is. I will leave you with that.
Here is Murphy, she is probably four months here.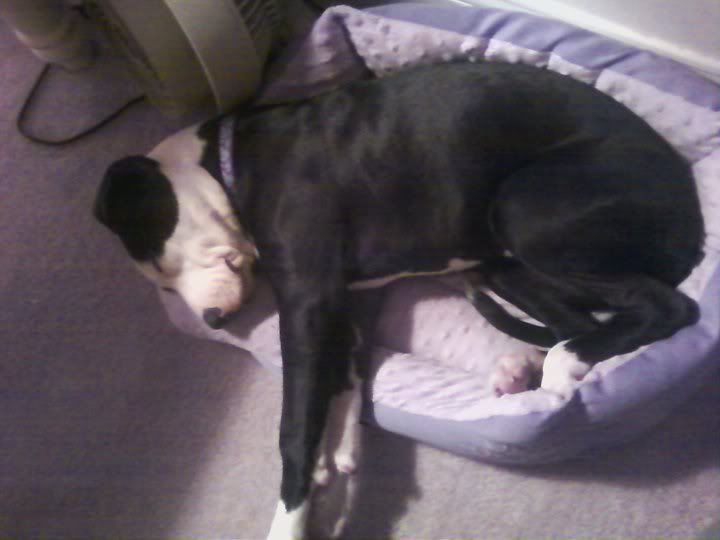 Then both with my niece.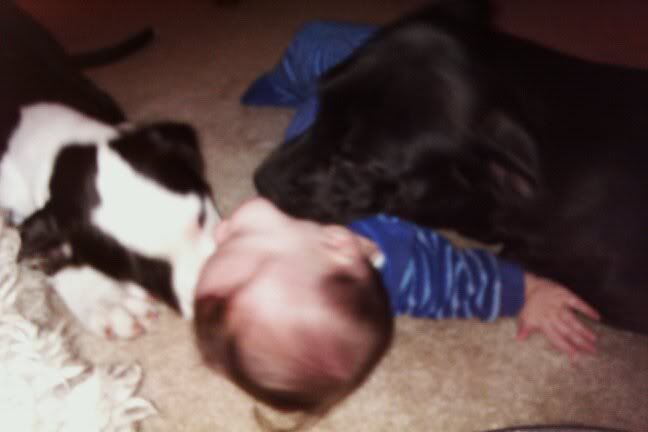 And then all four, from left to right. Peanut, Nathan, Murphy and Harper.