Wasn't sure where to put this as we don't have a welfare section but here we go.
My friend is getting a puppy as a present for finishing exams and her brother is going to university so it is 'replacing' him, that is kind or a joke! I hope, poor guy!
Anyway the puppy (bitch) is 6 weeks old (apparently) but I think she is a lot younger, maybe 3-4 weeks old! (oh and btw they are bringing her home in 2 weeks
). I don't have any of the pictures of the puppy but a six week old Lhasa Apso looks like this: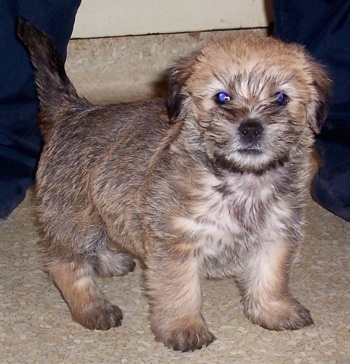 the puppy looks like this:
The reason I though she was younger is because of the way she walked, stumbling and dragging her back legs. She also has very blue eyes and a sway back (i think that is a breed trait though).
Now I have a dog but I am more a horse person that a dog person that is why I am asking for advice!
I have know this family all my life and they have had four Border Collies, which lives outside and were working dogs. I have read that Lhasa Apsos need walking and grooming everyday! I think the novelty of the puppy will wear off, so I am worried. btw My friend is 16 and will be going to college in September.
Now they are paying £650 for this puppy (which is about $985), I have seen them for sale for an average of about £250 ($378), so we think this is way too much and they are being taken for a ride! My boyfriend has two pedigree dogs and they were both £200-£300 when they bought them as pups.
They are buying her off their next-door neighbor and apparently they are professional dog breeders. I am telling you now all their dogs are different breeds. They didn't breed this puppy either they bought her off someone else. So this puppy is no longer with her litter
She is being fed sardines, I said 'isn't that a bit rich for a puppy?' apparently it makes their coat condition right when they are growing (you may know more that me, is that right??). My BF said that it is probably because it is cheaper than buying dog food.
Oh yes and the puppy has a hernia, she has had it stitched but there is still a huge lump and you have to be careful holding her. I think there will always be a weakness there and there will be problems later on in life for her.
My friends mum seems to think that Lhasa Apsos are very rare, is that right? I have googled them and looked at loads and loads of adverts and there seems to be an abundance.
They also think that they are going to earn lots of money from her, breeding her, showing her etc...
Anyway cookies for reading all that, I am worried for this puppy's welfare and also worried that my friends are being ripped off. Can i have some advice please! Should I tell them something?
Here is some info on the breed if you need to know
Lhasa Apso Information and Information, Lhasa Apsos