I live in Arizona with Ozzy, my Pomeranian. He's the light of my life and I like to refer to him as my 'lazy person service dog.' (Don't worry, I don't actually take him anywhere pretending he's a service dog!)
He's a little rockstar in flyball and just earned his FDCh-G (flyball dog champion gold) title this past weekend.
We've been working on some dance moves to enter the realm of canine freestyle, and so far he's doing really well!
I also want to get him into agility. He's gone to a dock diving class - he didn't do too bad considering he got over his fear of clear water earlier that same day! He's fine in dark water, like lakes, but if it's a pool, he can be a bit iffy.
He's also a model for Petsmart and is an extra in a movie coming out later this year.
Here's a few photos of him!
Here he was at his very first flyball tournament running singles - just four months after he was introduced to the sport!
Here he was during his emergency session at my dad's to get over his fear of the swimming pool before going to the dock diving class. I think he did pretty well. And yes, he's leaping off the diving board.
Livin' it up at the Vegas tournament!
My little fluffernutter is super serious when it comes time to race. Hehe.
Another flyball team invited us to join them to do a halftime show for our arena football team, the Rattlers. It was a blast!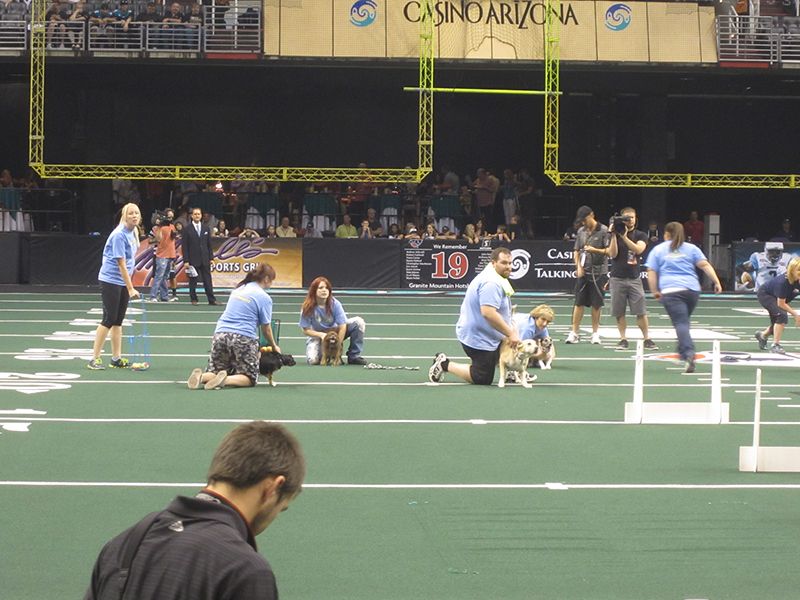 And two of the many things Ozzy is modeling for Petsmart.
Everyone feels bad for him for always having to model girl clothes, but look how happy he is in this rainbow tutu!