I'm new to this forum! How is everyone?
A little about me, I'm a 27 year old from Indiana. I've always been interested in dogs, ever since I was very young. I'm not new to dogs at all, I've had a dog in my life ever since I was about 8 years old.
I recently (a few weeks ago) lost my best friend of 8 years to cancer. Her name was Angel and she was the best dog anyone could ask for, we'd been through a lot together and I'd give anything to have her back, but I know she's no longer in pain where she is now.
This is Angel RIP: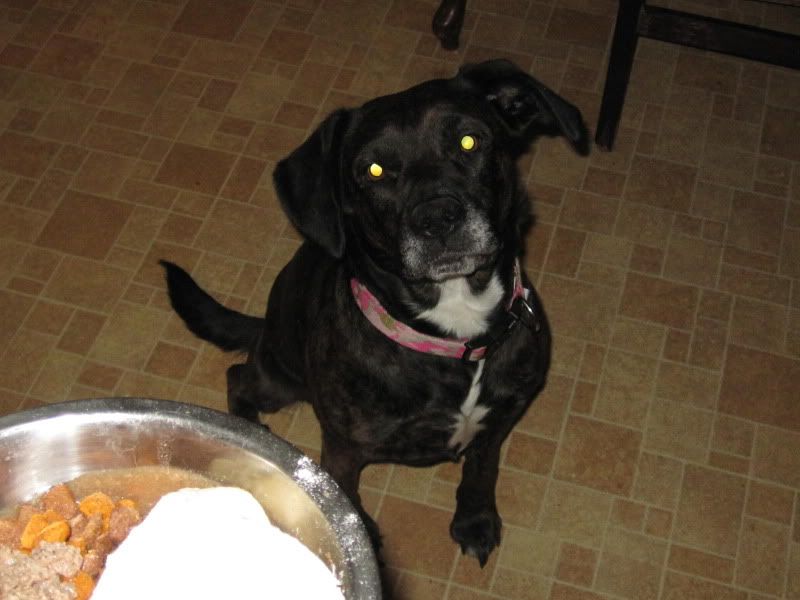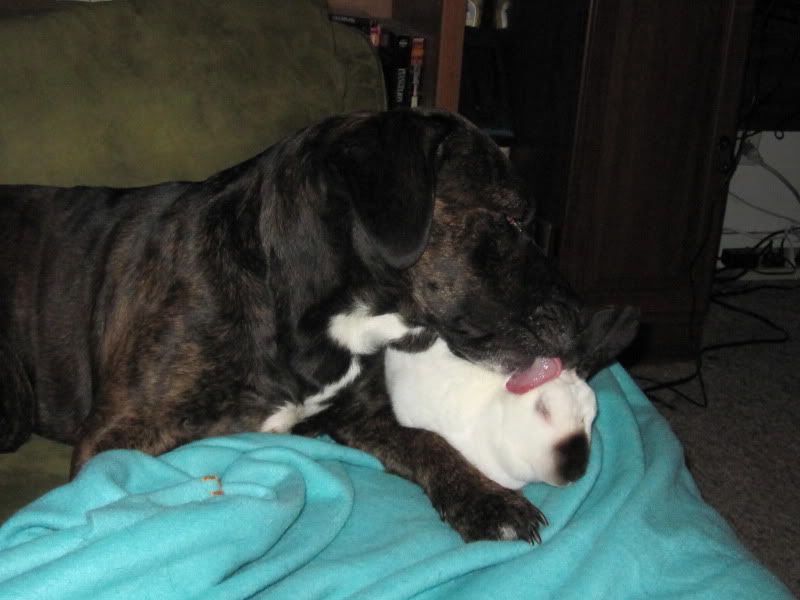 Angel was a Boxer/Lab/Pit mix, I saw her parents when I went to pick her up, she was an oops litter, so there was no question as to what mix she was.
Losing Angel has been hard on me, I still cry sometimes. I had her cremated which has given me some closure, I still feel like she's with me in a way.
I wasn't sure I would be emotionally able to love another dog for awhile, I thought about seeing how I felt sometime this summer and going from there but the absence of a dog in my life was terrible. We have cats, and love them dearly, but dogs they are not. So after thinking on it for a few days I decided to check my local craigslist and the pets from our local shelters on craigslist but after days of looking nothing clicked. I decided to post an ad on Craigslist looking for a dog and describing what I was looking for and I expected this process to take much longer than it did. I woke up the next morning with 3 text messages from a wonderful girl looking for a home for a 3 month old puppy.
3 months was a little younger than what I was looking for but when she sent me his pictures I fell in love with him. We set up a time to meet that day and I loved him in person even more than the pictures and Titus became part of the family.
This is Titus (Please excuse the stains in our carpet, they were from the previous tenants!):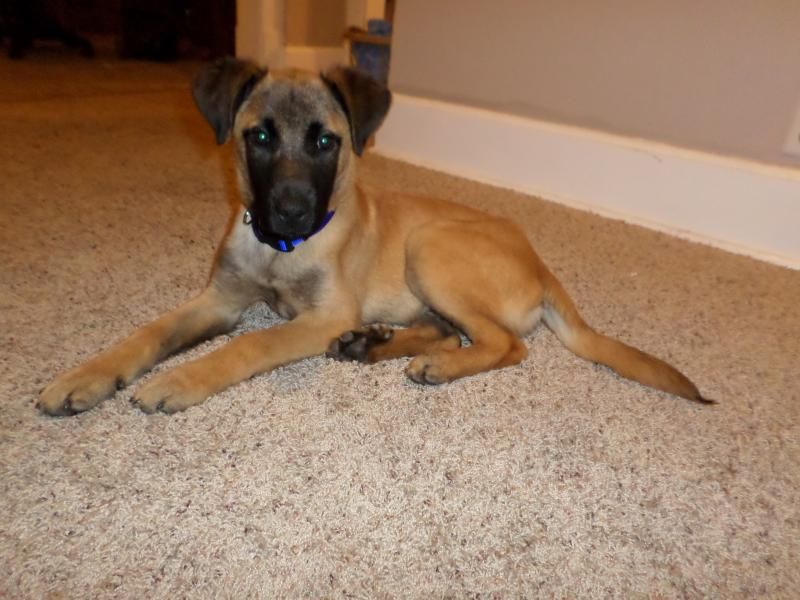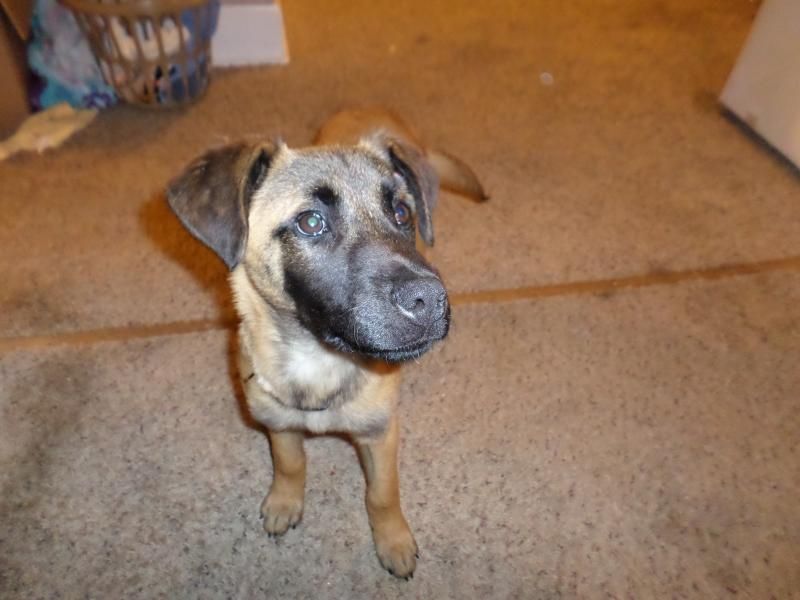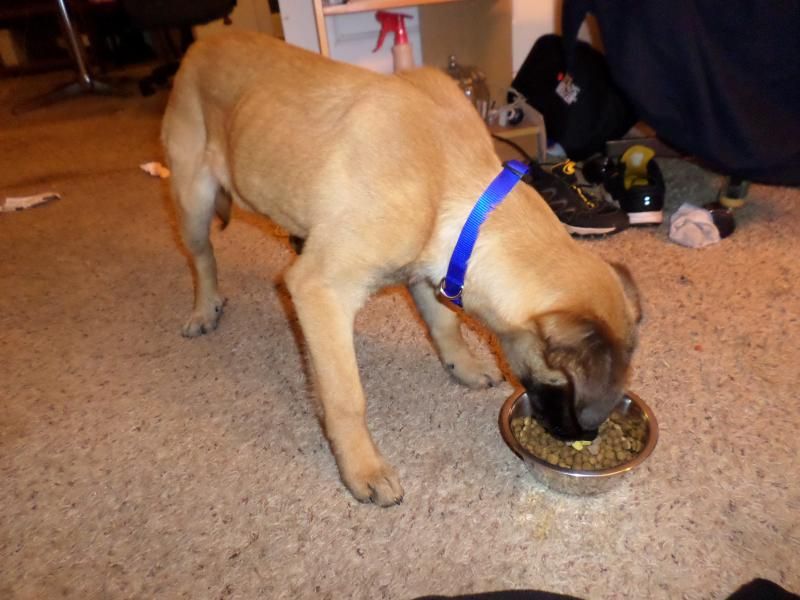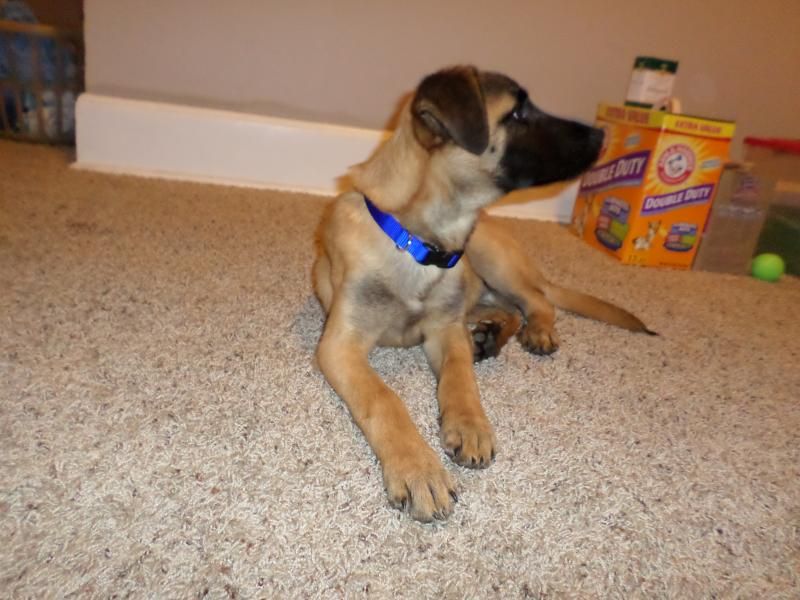 He's a shepherd mix of some sort, I'm guessing either German Shepherd or Belgian Malinois and Yellow Lab. I may have one of those tests done to see what breeds he is, when i can afford it.
Titus was found by the girl I got him from's friend, who called her when she heard barking in her neighbor's house. Her neighbors had moved and had been gone for a week. They abandoned titus there all alone and with no food. He's a very skinny boy and he's apparently at a MUCH better weight then he was when she found him, I can't imagine how he looked before.
He's around 3 months old and already almost as big as Angel was, so he's going to be a big boy when he grows up. I'm feeding him Canidae dry food for all stages and he also gets Innova EVO canned food and he get's fed raw whenever I can afford it. I'm going to be looking at switching him to just Innova EVO dry and canned food, when I can afford to. (I'm voluntarily unemployed ATM but will be getting a new job soon, I took about a year off working, I have the money to care for him just not a lot of extra to get him on the more expensive foods, the cats too.) My boyfriend and our roommate (his brother) love him just as much as I do and he's a quick learner!
I wanted to make a pretty long and through post on here introducing myself and my new canine life partner. We love him and I hope to be an active member here where I can chit chat with other dog owners about training and share pictures and things like that.
Sorry for the length of this, It's nice to meet all of you!