I figured that I ought to introduce myself since I've been posting a bit.
I'm Elena. I'm 20, and live with my partner. I'm in my senior year of undergrad, while working for a dog daycare and rescue. I work with two rescues right now, and do fosters. I enjoy training and working with dogs, and am an Environmental Studies & English double major.
I grew up with dogs. The earliest picture I have is of little me hanging on a yellow lab with cats in the background. My great grandmother did rehabilitation of wolves and moose in Alaska for some time, so my family has always been in the spirit of keeping animals close to us. I'm planning on going to vet tech after this, and hope to work with coyotes in the future.
I have three dogs, and my partner has Moxie Doodlebug. Who is basically mine too, I guess. I have my senior dog, Ui, who is a big chunk. She's a little chiweenie terrier mutt thing. I was the one who trained her, and she is a great therapy dog. I've had her since 6 weeks old. She sleeps most the day now, is allergic to tons of food, and can't have any more vaccinations due to terrible allergic reactions that nearly kill her, so she likes to stay at home. Usually next to a heater vent.
Gidget and Parker I adopted through my rescue. Gidget is a little corgichi who is very nervous around men and large dogs. She's an anxious type, but with a lot of work and positive reinforcement, I've gotten her to tolerate being around them. She'll even come with me to work, greet customers, and go into the yard with all the big 'uns now. She's annoying and excitable, but I love her.
Parker was surrendered to a shelter as a puggle. The rescue pulled him, and he was adopted out... and brought back, multiple times. Parker had stranger issues. But only to people coming into the house, once he's attached to an owner. Somehow over the course of a few years, he was adopted out to multiple people who had no idea what to do with an aggressive dog. He's bitten people, and it certainly hasn't helped that he's been returned so many times. So I ended up taking him home with the intention of fostering and working with his problems. As it turns out, I have no idea how the adoptive parents screwed up so badly with him. Parker is a perfect dog, and I call him my boyfriend. It just took some effort and practice with strangers. We took baby steps. First Parker's crate. Then a gate between Parker and strangers. Then a leash. Then what? Nothing, just his bed. A stranger comes in, I tell him to go lay down, he hides out and maybe grumbles a bit. No biggie. But I knew that if he went out to someone inexperienced, it would be the same thing over again. After months of looking, I figured – "Well. He's been in my house for months. I can handle having another dog, clearly. The best thing for Parker is to stay with me." And so I adopted him. He ignores most people who come up to him now. He is no longer a caution dog, just a dog that doesn't care about people.
By the way, he yodels. I believe he is actually pug/beagle/basenji. It would explain his crazy athletic ability – he can jump a five foot fence with little problem. Gidget and Parker are so fast and athletic, jumping over just about anything, that I've been wanting to do agility with them. I have relatives that do agility, and am into starting it up soon. I think it would be a great outlet for these guys with all their crazy energy.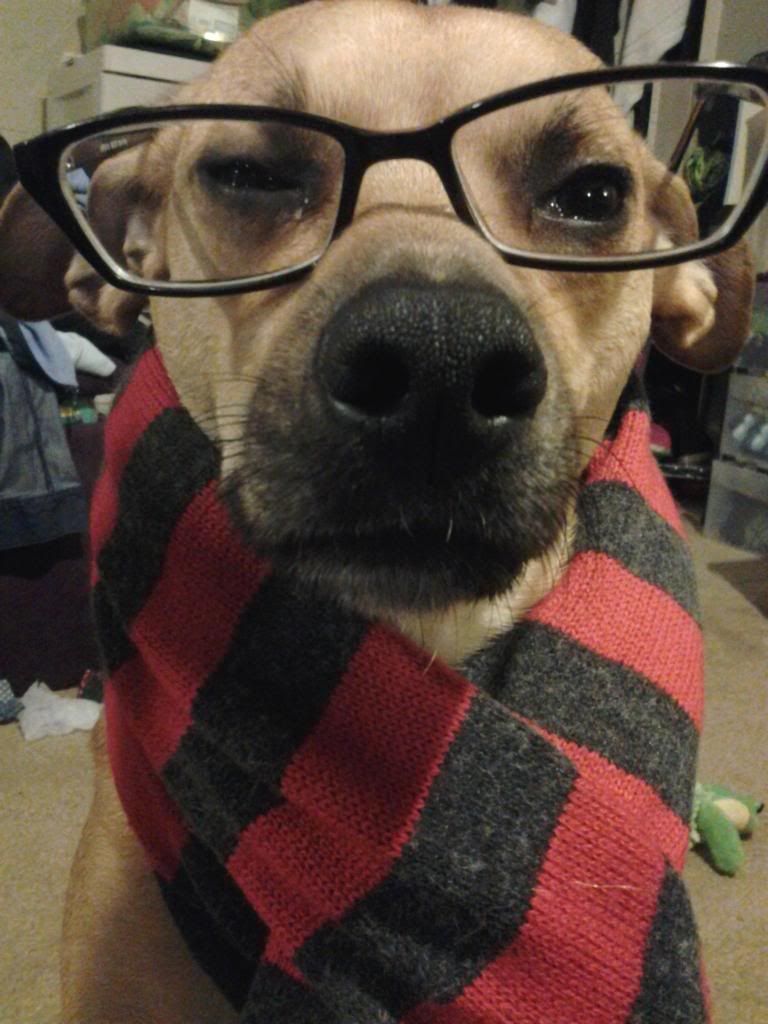 I have no pictures of our little miniature long haired dachshund yet, though I will be sure to upload them. She's a cutie.
For the past two years I have been looking for a shiba inu. I found one on craigslist yesterday. Currently waiting for a reply from the owner to see if I might go do a meet and greet.