Why, Hello Everyone !
My name is Tatianna, I am 14.. and im from Mb, Canada.
Anyways, let see.... you may know me on other forums.. because im an absolute FORUM addict.. im serious lol.
Let see...
My dad has
2 Cows
6 Horses
2 American Bulldogs
and i have...
1 Green Cheek Conure
1 American bulldog/Argentine Dogo
and 5 cats... although they will stay here when im old enough to move out
and Also 1 Thoroughbred Gelding(horse)
Crazy hey ? I used to have more... but things happen right ?
Anyways.
Here is alittle intro to the dogs...
Alright, This is my dog Beuford.
I believe he is a 2 or 3 year old American bulldog/Argentine Dogo.
It is very very NOTICABLE.
He is the biggest dog in the house, and the most goofy and the friendlist.
I found Beuford as a stray when i lived in a town in 2008.
He had no collar, no tags nothing and he was wandering around with a friends dog named Cocoa that only reached his knees lol.
Anyways, he didnt trust me at first, and he followed Cocoa, i almost had him near me, than had to chase him to my friends house.
I got him and put up signs and everything, after a week noone had contacted me so i made him officially mine.
He was underweight, he is very active and loves to run.
Now he has gained abit more weight... but he looses it sometimes, but it comes back, we are working on it.
He is so much more happier here and i will never get rid of him
he will be with me forever !
He especially loves to play and chew things lol.
He is also an Indoor dog, if you leave him outside, he howls and howls and whines, till you come outside and get him.
But he is very good, he already knew how to Sit and shake when i got him, now... i have owned him for a year and we still have lots to work on
But he really does trust me, with the work to get him along with my dads dogs who arent so dog friendly.. he is afraid of them and finds real security in his crate and my bed room, but if i call him he will always come to me and doesnt so much listen to my dad when he asks him to come out lol.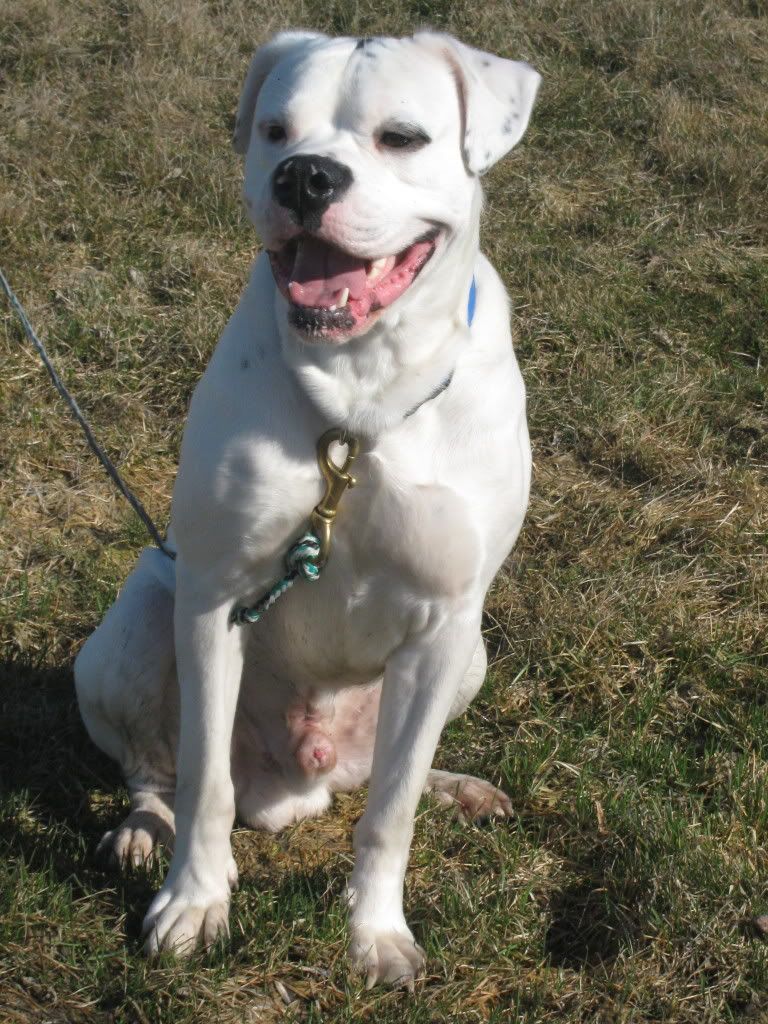 Now atilla and Cinco.
Atilla and Cinco are my dad's dogs. They arent too dog friendly, but they have been brought up together since they were pups.
Everynow and again they end up fighting which really does bring down our patience,But they are quickly seperated and it rarely does happen, its happened a few times that it turned out serious to atilla and he was tooken to the vets right away.
anyways they are purebred american bulldogs, from championship bloodlines, turning 6 years old this year.
Atilla was intact and they had given birth to one litter together it was accidental, but now he is neutered.
Cinco is very dominant, and atilla is very laid back.. accept when you try clipping his nails.. than you kind of want to back off.
(i clip all the dogs nails except for atilla which the vet has to do)
We got them from
Bonellos Bulldogs
in Ontario
Atilla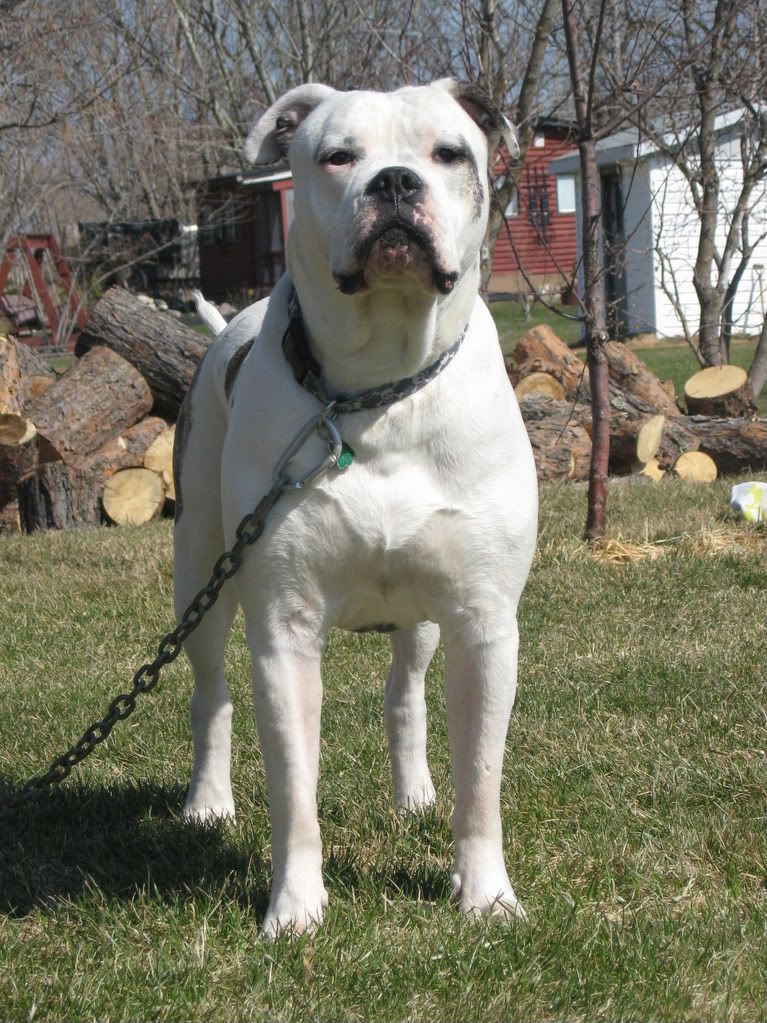 Cinco