Hey guys, my name is Madeline. I'm 18 and from WV. I like to take pictures of dogs and talk about video games... that's about all there is to me.
I joined after a recommendation from Furry-Paws.com, so if any of you are members you might recognize me as "Shatt".
I have two dogs. Daisy, the 1 1/2 year old lab mix, and Oscar, the 5 year old cattle dog. I think this picture sums them up pretty well: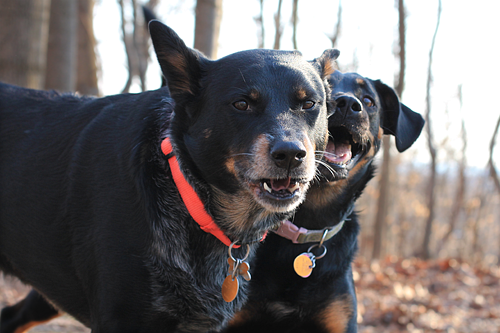 Daisy is my girl through and through. She's not the smartest dog but she's super happy and always up to do anything. She's also very sweet and cuddly. I got her at the shelter last year when she was 7 months old. I call her Z or ZZ most of the time, which is where my username came from.
As for Oscar... well we've had our struggles. He had some pretty bad aggression issues when I got him. I've got the scars to prove it, lol! With a lot of training and him maturing, he's come a long way. He's insanely lazy and very cat-like. He likes to do his own thing and only wants attention on his terms. He's a stubborn little brat, but I love him.
I also have a whole crew of other pets, as I live on a small farm. But since this is a dog forum, I'll stop here.
Anyway, I'm looking forward to meeting you all.