I was a member on here a while back, but haven't been on the site for a few months. I doubt anyone here remembers me
So I'll just go ahead an reintroduce myself.
I'm 17, I live in Alabama, I love photography. I'm pretty set on going to college, but may take a year off to travel first.
I have two dogs now, a chihuahua named Sophie, and a lab/husky (tentative guess) named Buddy.
Sophie was adopted from a shelter a little over a year ago, as a tiny puppy. My family has, for a long time, taken in strays and rehomed them, and had many animals--all kinds of animals--from the time I was a tiny child. Sophie was my first responsibility, though I now hesitate to say she's mine, since my mother and I have reached the decision that she, along with Buddy, will remain with my mother when I go to college. I know it's for the best, but I'll miss her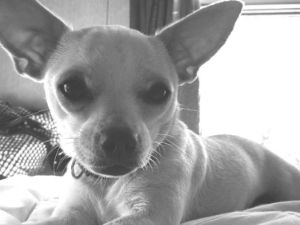 Then there's Buddy.. So very complicated. First he was just staying awhile, then he was staying permanently, then my mom said we had to get rid of him, then he was staying permanently, again. It was an ownership roller coaster if ever there was one
Now it's very firmly set that he will be staying here for good. Probably for the best, since for awhile I was a
wee
bit obsessed with getting a bigger dog. I love Sophie, but she's just so tiny. Couldn't really do everything I wanted to with her. I'll miss him too, even though I haven't had him as long as Sophie, I still love him.
So that's me and my furry family, for the next 6 months, at least. I'm happy to have found this website again, and really happy to have finally figured out my old password