Hi, Those of you know me, I would like a fresh start. I created a new name and I want to start completely over with everyone on here as I admit I miss the forum.
I would like to stay and enjoy it here, along with enjoying the people with
no
problems,
no
fighting, and
no
disliking one another.
Can we start over and get along?
And for those who don't know me..(which I think everyone does)
I am Rachel. I am 18 and happily married. My husband is Michael and is in the military. I admit I have messed up in the past with my first dog, but its done and over with..its the past. So, about the now - I have a sweet little Papillon who's name is Rinzzo. He has become a huge part of my life in just a small amount of time. I have no kids and Michael is away so he is all I have, and when your dog is the only thing you have, you learn to make a whole new relationship you never knew you could..a relationship with an animal that feel like one with another person. Rinzzo is amazing and makes me so happy. When I am sad and missing Michael, I feel like I never want to even get out of bed somtimes and he's the one that gets me up and going. I know he needs me, and it feels good to be needed...you know?
But anyways, He's my baby and I am doing the best I can to give hima great life and take care of him the best I know how to.
Here is Rinzzo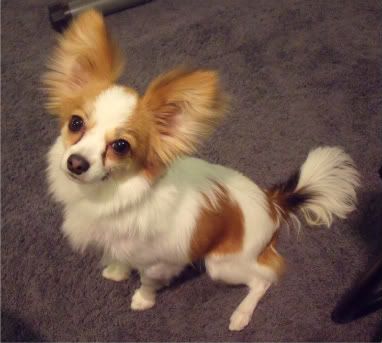 I hope this time around, I can make friends and get along with everyone
-Rachel & Rinzzo