Decided to make raised beds for the dogs, since they seem to do better with "go to your mat" training with a raised object (versus the bath mats we've been using lately). I'm going to give the instructions for how I'd make a better one instead of how I made this one in particular.
This bed is for a 25-40 pound dog; adjust sizes as necessary for larger/smaller.
The frame is 1" PVC and you'll need a little less than 10'. I used some old duck cloth that I bought ages ago and haven't used; I've heard awning material or fabric meant for patios is better, but it's expensive and I'm poor, so. You'll want a piece of fabric at least 32"x26" (or if you choose to make a different size, at least 4" on each side beyond the dimensions of your bed, so +8" total width, +8" total length) You will also need 4x three-way corners shaped like this: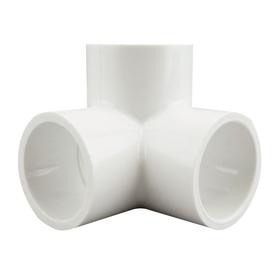 Cut:
4x: 4" PVC (legs)
2x: 24" PVC (long side)
2x: 18" PVC (short side)
Assemble the frame (two long sides, two short sides, connect with corners). Don't worry about the legs yet; they make it more awkward to measure the fabric.
On the fabric, mark 4" in from each corner and cut out the 4"x4" corner on each edge, making the whole fabric piece kind of a big "plus sign" shape. That way your excess fabric won't over-hang the legs, since there's no way to make that look pretty.
This leaves you with a 4" flap along each edge of the fabric. Lay the fabric under the bed frame (with the connectors for the legs pointing upward), making sure that it's centered. Fold the 4" flaps of fabric across the lengths of PVC and mark where to sew. You want it to be as taut as possible when stretched over the frame, so mark conservatively. Remove the PVC frame and sew the "sleeves" of the fabric in place. Disassemble the PVC frame; insert lengths into the fabric sleeves, reassemble. Add the legs. Make sure that it is level and all of the pieces are aligned properly; twist PVC as necessary to get everything aligned. Use either PVC glue or screws to stabilize the frame.