And now my dog


Breed
: Hovawart
Size
: medium-big (males are 63-70 cm in height and weight 35-40 kg, more or less)
Colors
: black, black and tan or blond
Grooming requirements
: they have a medium to long coat, with undercoat, wich means that during molting it has to be brushed daily. The long hair also means you have to take time to check for thorns (sometimes they gest stucked in the coat), ticks or dry leaves.
Normally though brushing them once a week is enough.
There is no need to wash them often: I wash mine once a year and his coat is always clean and shiny (and I swear it does not stink)
Energy level
: medium. I walk mine 10 km every day, sometimes less if instead we play/use the bike, and I have almost daily small session of tricks and exercises, but if I have to I can reduce the walks for a few days and he does not mind (of course, if I were to reduce it always I'd have some problem)
Temperament
: they are guard and defense dogs. They have an high vigilance and are quite protective of their humans (and also their humans things).
They don't bite unless absolutely necessary: they try to block/drive away the "enemy" barking and growling, and only bite if this doesn't work (if they bite though... they have big theet and a strong mouth).
Most of them are wary with people they don't know: a good socialization is vital... and still they will not be dogs that love people. They'll learn to tolerate these annoying humans that think they have a right to pet them and ask them to "sit" and "paw" (they look at these kind of people with very expressive eye, you can hear them saying "please tell me, who do you think you are? I should listen to you why, exactly? You do know you are nothing next to me, right?"), but they'll not enjoy it (it does not mean they have problems being around people, not at all)
In the family they are very expansive: they lick, cuddle...
They are smart (really smart... a "let's open the door/drawer/box, take what I need and close it, so the humans won't notice" smart), and it's not easy to get their respect: they will listen to you only if they think you are smarter then them (at 4 months old, my dog saw a fence, and inside the fence there were 3 chickens. He looked, walked around the fence, found the gate, jumped, pushed the latch that kept it closed with his nose and opened the gate. All of this in less than a minute, and he had never seen this kind of latch before. Being smarter than this is not so easy).
Males especially can be dog aggressive. It does not necessary mean that they were not socialized enough. One can teach his dog to ignore other males, but if you think to put your male hovy with another male and exspect them to play, be ready for a very bad surprise (they are not the kind of dog that is "all bark no bite": if they fight, they fight)
Breed history
: it's an old german breed, probably a descendant of the tibetan mastiff.
Its name means guardian of the court, and it was a loved dog in germany (many old law books, like from 1300-1400, said that whoever hurt an hovawart had to pay a fine, that was higher if the crime was committed in the night).
While it was born to protect the house, this dog also protected farm animals from wolves (gray color was not accepted so it could not be mistaken for the wolf) and helped the human with boar hunting.
After WW1 it risked extintion, but was saved by a group of men (among them Koenig, that thought every cattle dog breed and shephard breed, including the newfoundland, came from the hovawart) that used the remaining hovy in the black forest and german shephards, newfoundland, leonbergers and also what probably was an azawakh.
What should potential first time owners be aware of?
This is a great dog, but is not a dog for everyone.It is not for you if you believe that dog should stay outside: this dog loves human company and needs to feel part of your everyday life (walking you to the bathroom as well).
It is not for you if you can't be patience: they mature slowly, so you'll have a 3 year old body with a 8 months mind, and that means a "big dog" with the energy and self-control of a big puppy. Also, during adolescence, they challange your authority, and one needs to have a lot of patience (losing it means losing the dog's respect, and this not something you want with an hovy)
It is not for you if you think you might challange them in a strenght show: they are stronger than us, and they know. Thinking you can get your dog to sit getting mad or raising your voice or spanking him means having a dog that will get mad, raise his voice, and show his teeth in turn
It is not for you if you find it difficult to say no and scold your dog when necessary: of all the hovy I've seen, the ones that were difficult and had problems were those that grew up with the "carrot or no carrot" way, praised when they did well and ignored when they did wrong. It's very risky doing this with hovawarts: they need to learn that some things are forbidden.
It is not for you if you have the kind of home where everyone comes and goes, if you think you'd like to say to a friend "sure, you can go, I'm not home but it's fine, the dog knows you", because it doesn't work with hovawarts, or if you enjoy having people in your house and you don't mind them walking around on their own: the dog might, especially if they start touching your things (I've seen with mine: when he was 8 months old I had a couple of friends at home. Once it was time for them to go, I went in the kitchen to get something for them, and one started getting ready, took her purse, then moved to take her coat, that was under mine. As soon as she touched my coat, Baloo jumped in front of her barking and growling, I ran out and found her against the wall, with her hands up, and Baloo growling. He calmed down as soon as I got there: apparently no one touches my things if I'm not there)
This is a great dog, a great guard and defense dog, and one should appreciate this breed for everythin it is.
Health:
This dogs are extremely healthy. In europe, hip dysplasia hits 4% of hovawarts, more or less, and evry other medical problem less than that.
That is because germans worked really hard on this, and their work should be respected and continued, so make sure to buy only from people that test dysplasia (both hip and elbow), eye problems (progressive retinal atrophy) and (there have been a few cases in the last years) degenerative myelopathy.
It should be noted that, while they are big dogs and molossoid dogs, their life expectation is around 14 years
What is your breed experience?
I own one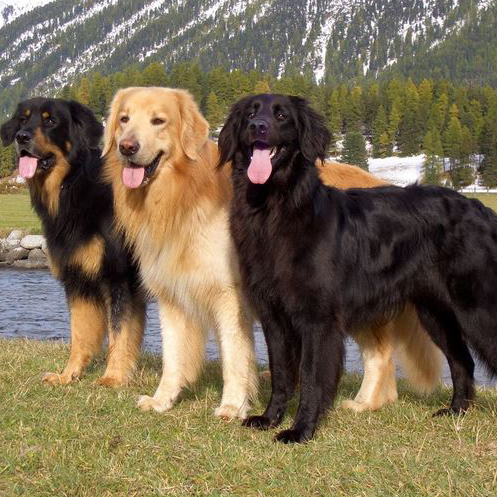 http://www.petpaw.com.au/wp-content/...-Hovawarts.jpg
http://www.doglib.com/wp-content/upl...face-breed.jpg
http://www.wds2015.com/blog/wp-conte...r-824x1024.jpg