I adopted my first dog about 4 months ago. She is a mutt (we think plott hound/Labrador mix), shes a year old now, and about 55 lbs.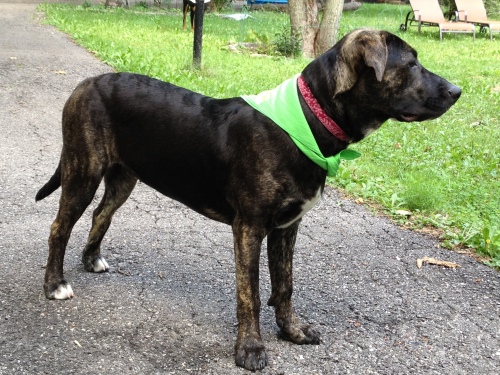 She is a great dog, has been pretty easy to train basic commands (sit, down, stay), I can let her outside off leash and she doesnít run past my yard, she has lots of energy outside but is very calm and laid back indoors. No problems housebreaking her, and she sleeps through the night without a peep, really an ideal dog to adopt.
The only problem we have been having is crating her. We do not crate her for long periods of time. My girlfriend and I both work 9-10 hours a day, so during the week she goes to my gfís parents house every day. They have 4 older dogs that she hangs out with (she loves other dogs and is very good with them), and there is almost always someone home there (5 brothers and sisters plus her parents). Most of the time she is not crated there as someone is home to watch her, but she started to chew on stuff, so they started to crate her when there is no one home. She is maybe crated for 2 hours a day, maybe 4 hours max on a particular day. They put her in a normal wire crate, but she was able to bend the crate bars and squeeze her way out, and chew on stuff in the house. We got a more secure wire crate, and she was able to snap some of the crate wires and make her way out again. We have tried not crating her, but she chews on stuff she isnít supposed to, despite having 10 different toys to chew on. We tried to start crate training her at our house as well on the weekends, but she broke that crate too. Today, she chewed up an antique chair at my gfís parents house. I am worried she is wearing out her welcome there. I was looking at getting one of the heavy duty aluminum crates, but thought I would come here and ask for advice before I drop $400+.
Any suggestions? How do I get her to calm down when she is home alone? Is there a heavy duty crate that isnít as expensive?