My Rottie Kaiser has had a skin growth on his chest ever since we had him 2 years ago. he is about 6 years old now and may have had it a long time. He is a rescue dog.
About 5 Vets have seen this growth and all say it is not a problem but to keep an eye on it. It has not changed while we have had him. It is obviously inert but looks awful. It does not seem to worry him.
My Vet will not touch it, he says it is cosmetic and unless something develops to just put up with it. It is rather like a plum hanging down on his chest.
Has anybody had experience with this kind of thing ? If so, I would be grateful to hear your comments.
Not a good picture, but it can just be seen between his shoulders.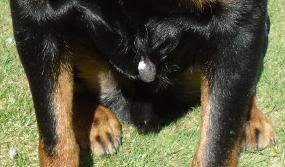 This next picture is not of my dog, but the growth is about the same but larger than on Kaiser.