Hi all! My babygirl Suri just turned five years old. I bought her as a puppy from an Amish family. Her mother was on the premises and the family told me she was a rat terrier (I think? She had a black coat with tan markings, not the typical white coat that my mom's rat terrier has. I don't remember seeing any white on her. She looked to weigh around 12-14 lbs. The pups were 10 weeks old and almost as big as her already!). The father was the neighboring Amish family's dog (I didn't get to meet him) and I was told he was a blue heeler/cattle dog. Lots of Amish around here have heelers and terriers as family dogs.
Anyway, I've done some research on both breeds out of curiousity, and I definitely see the heeler traits in Suri! She is extremely loyal and loving with my mom and me- cautious/wary of strangers but she warms up to them if they give her some affection. She is very muscular and extremely fast! She loves to run and has endless energy. I haven't ever seen her nip at people's heels as is typical of blue heelers, but she does love playing with my shoes sometimes while I am walking. (we make a fun game out of it, she loves biting my shoes, but -only- mine. I've never seen her want to do it to anyone else). She has a very high pitch bark (also a heeler trait, I've heard!) and can be aggressive to dogs that come on her turf, especially female dogs. She normally won't bark or growl at dogs when she is off her turf, but I would say she doesn't particularly like strange dogs at all. She gets along great with my moms dog, a purebred rat terrier, but they grew up together.
I am definitely curious as to if her mom was a rat terrier for sure, or some other kind of terrier. Suri has a few typical rat terrier qualities. Her prey drive is HUGE! We live on a farm in the country and she is always chasing (and killing!) vermin, ranging from muskrats, to rabbits, to raccoons. She has been quilled by four different porcupines. (My moms terrier was quilled once and learned his lesson and won't mess with them now, but Suri just can't help herself). She will chase birds, frogs, anything wild that moves pretty much. She has chased a few feral cats also, but ignores our own family cat. Once she even challenged a coyote! Generally, she is very good about coming when I call her, but if she is chasing an animal, there is no stopping her.
My moms rat terrier is very independent and doesn't like to be cuddled- this is not the case with Suri. She loves affection and can never get enough of it. She would be content to sit and have her ears scratched all day long. She can be stubborn, likes to be the dominant animal in the family, and is quick to bark at the slightest strange noise she hears.
She is a handful, but I love her to pieces. Hopefully someone can confirm that she is indeed a blue heeler/rat terrier mix. Here are a couple pictures!
Forgot to add, she weighs 23 pounds and is pure muscle!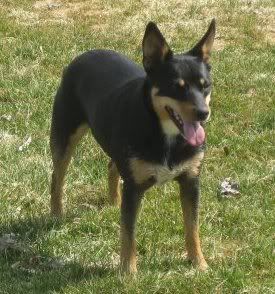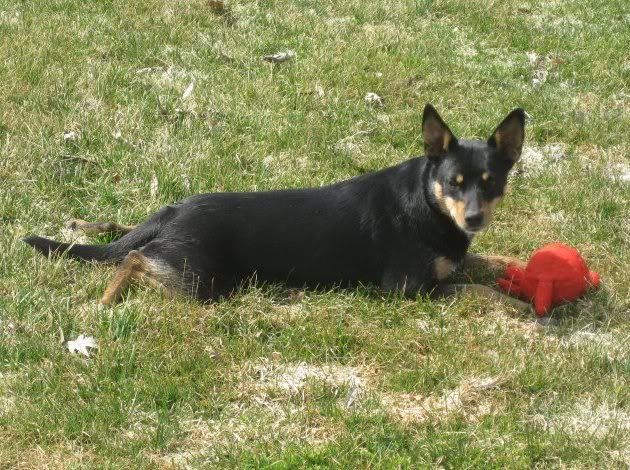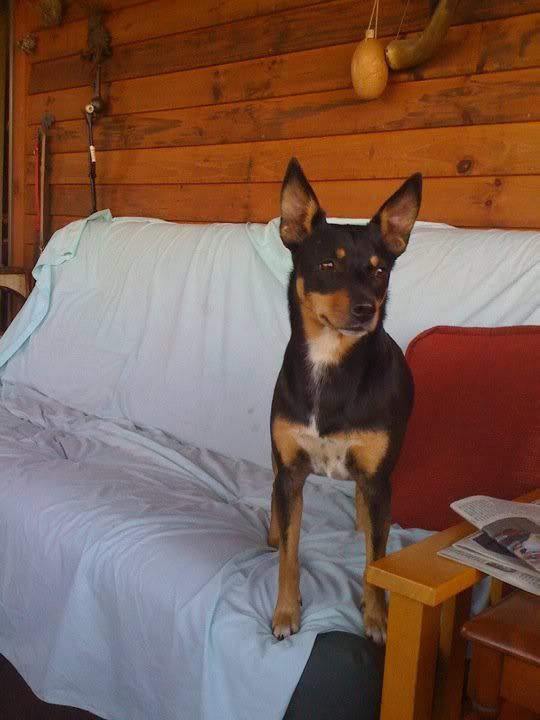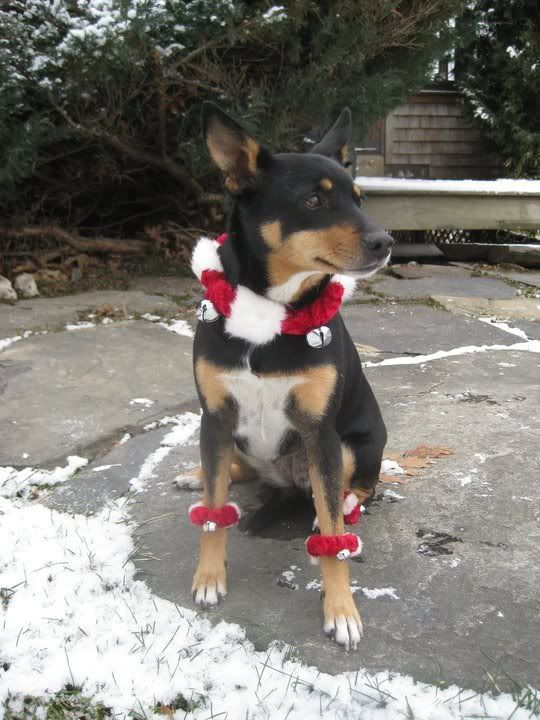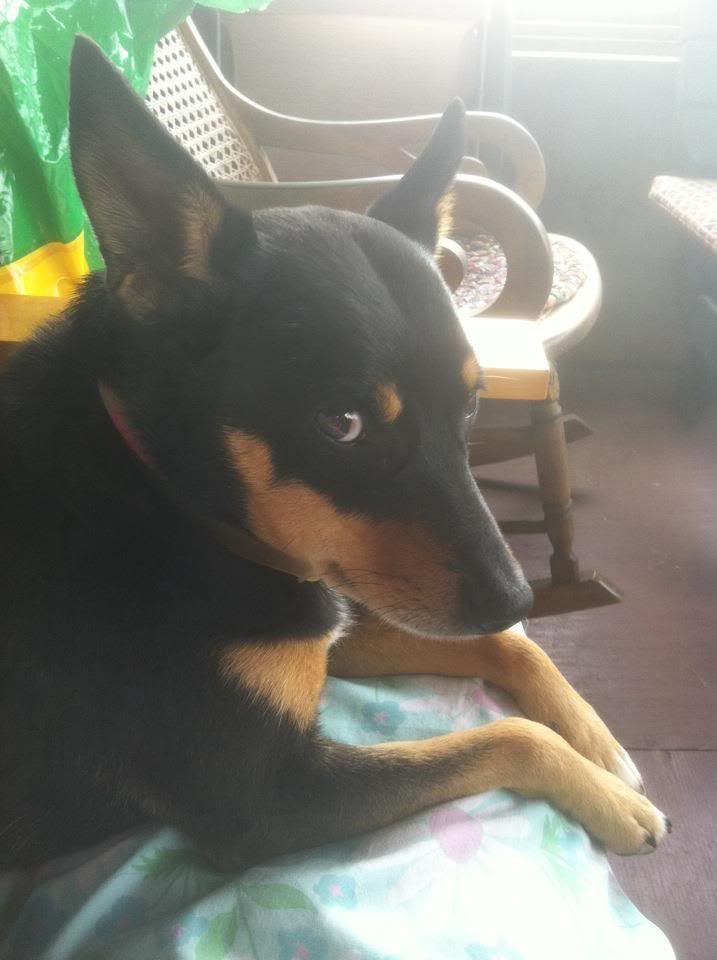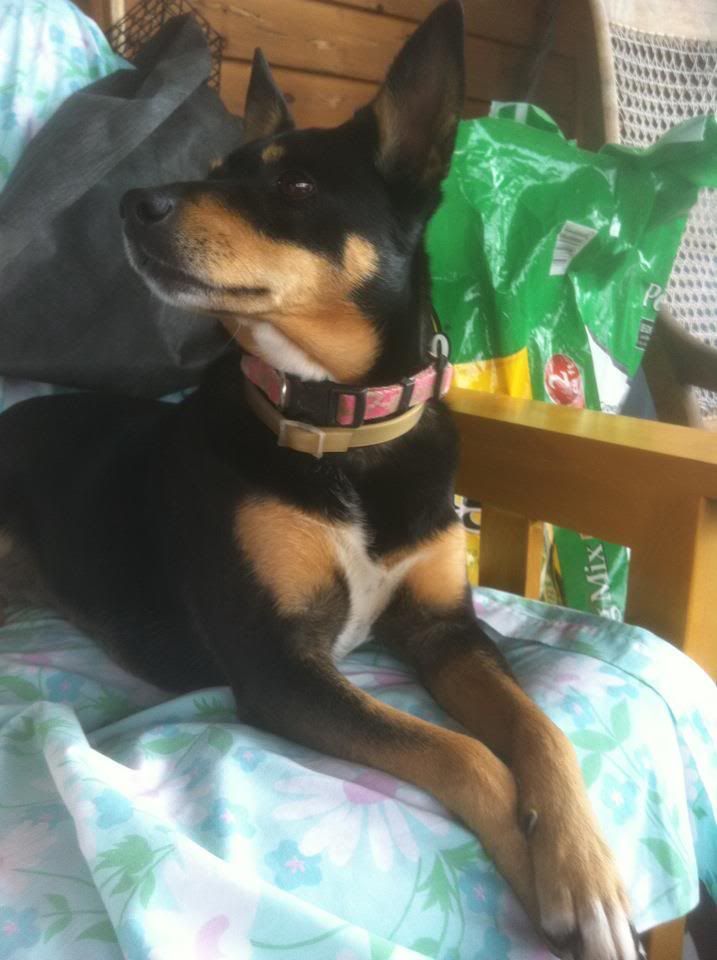 Thanks guys!